The words merger and acquisitions are often misunderstood, as these two terms are most often used together but refer to a restructuring of organizations. These processes aim to achieve better efficiency within the company and expand its market positions by combining two separate entities. There are several key differences between mergers and acquisitions, which we discuss further below.
What is a merger?
A merger is a process where two different organizations create a new entity by joining forces. They both agree to form a new enterprise. Usually, a newly-formed enterprise appoints new management, and often, a new name, no matter how slight, alerts the public of the merger. The workforce consists of employees from both organizations.
Mergers arise as companies seek mutual gains and hope to improve efficiency. There are also different motives leading to mergers, such as expanding market share, entrance into other markets, increasing profits, etc. Usually, merging organizations share similarities and often operate in the same industry or sector.
Their operations and company size may have a similar scale, which also shows that these companies treat each other as equals.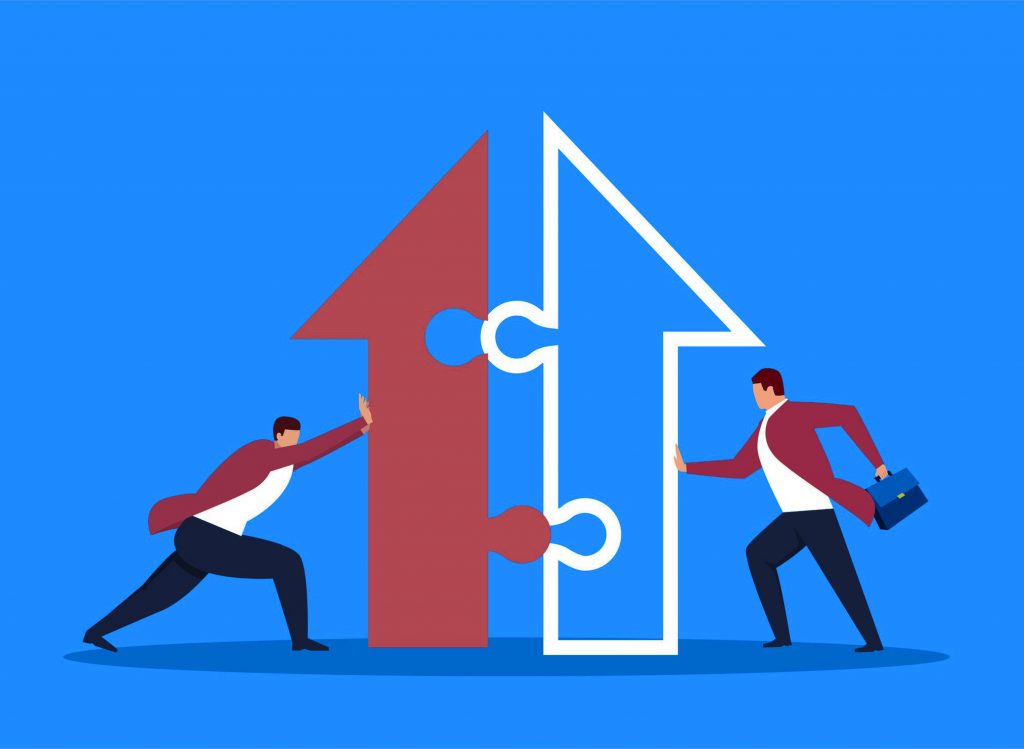 What is an acquisition?
During an acquisition, one company is acquired by another larger company. It usually appears as one large organization, which is stronger financially, takes control of a smaller company.
For the acquisition processes to be successful, the acquirer needs to purchase at least 51% of the other company's stock. That way, the acquirer gains full control over the company. The acquisition decision doesn't always need to be mutual. There are cases of hostile takeovers — when the smaller company was acquired without a previous agreement or consent.
After the acquisition, the acquired company continues to work, but under the new company's name. In this process, the acquirer also has the option to retain — or not — the acquired company's staff.
The main purposes of acquisition are to attain a competitive advantage, expand operations, or gain entry into new markets.
Differences between mergers and acquisitions
The main difference is that a merger combines two or more separate companies to create a new entity, where both companies are treated equally. Conversely, acquisition refers to the complete takeover of a smaller, often financially weaker company by a larger, more stable one.
Both of these transactions' intentions are to obtain benefits, such as gaining more market share, increasing operational efficiency, and creating more shareholder value.
How M&A benefit from virtual data rooms?
Mergers and acquisitions require dealing with many documents for all parties to complete the due diligence process. Those documents require a high level of security, so companies store and share their data in virtual data rooms. Here are the main advantages of using data rooms for the M&A process:
Cost- and time-efficiency. Having all of the needed documents in the VDR will save you a lot of time, as you will have access to the files at any time during the due diligence process.
Secure deal environment. Virtual data rooms offer great secure functionality, where you can see who has access to the files, assign people to specific documents, so you have absolute control over the process.
Streamlined business processes. The virtual data rooms can help meet government compliance and legal requirements involved with mergers and acquisitions. The VDR providers offer legally compliant due diligence index templates to prepare all of the documents for different phases of the M&A deal.
With the help of an M&A data room, you will be able to make informed decisions quickly, which is vital in the M&A process. Mergers and acquisitions may involve similar processes; however, some aspects differentiate those two deals.
TOP 3 Data Rooms
1. iDeals


Read Review
2. Citrix
Read Review
3. Datasite


Read Review