What is M&A?
Mergers and acquisitions (M&A) deals are when two or more companies unite to form one business entity. The procedure can take a few months to several years and consists of the exploratory, due diligence, and post-merger integration phases.
Exploratory phase
At the beginning of the M&A process, a seller defines what they expect from the integration with the other company and sets criteria for potential buyers. Later, they contact companies that meet the criteria, perform a mutual evaluation analysis, and offer a suitable candidate.
Due diligence
Once the potential buyer accepts the offer, they conduct a thorough analysis of the seller's assets, liabilities, financial metrics, customer base, human resources, and more. The aim is to make sure that the M&A transaction will bring the expected value.
Post-merger integration
Following successful due diligence, the integration process combines two businesses into one. The M&A participants integrate their knowledge bases, combine technology and systems, decide on the common internal policy and corporate culture, organize new department structures, and more.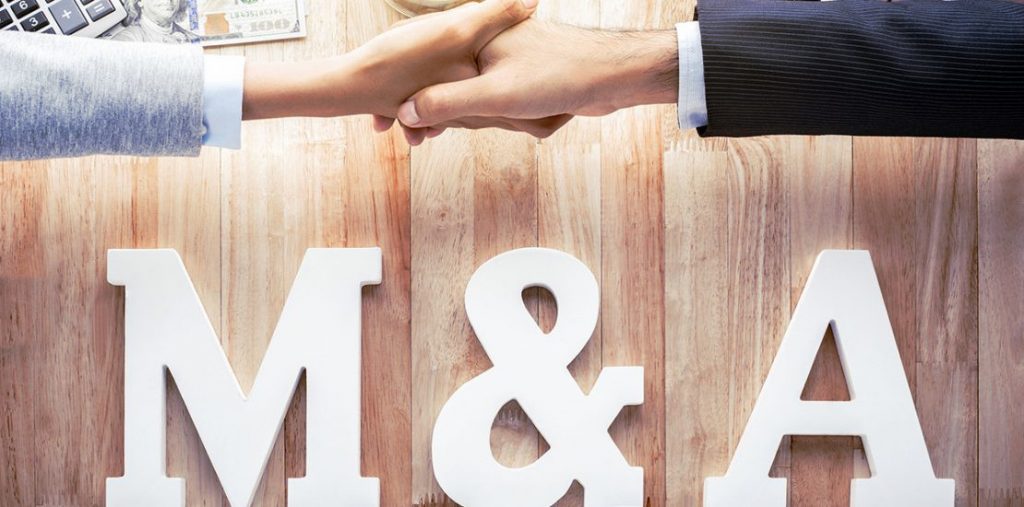 How virtual data rooms improve the M&A workflow
Enhanced protection
The level of security offered by the best virtual data rooms for mergers and acquisitions is very similar to how financial institutions protect their assets.
Compliant with internationally recognized security standards, they encrypt all your data and implement the latest cybersecurity practices, from multiple firewalls to two-factor authentication. Besides, with the help of customizable access permissions, you'll be able to control which third parties see which documents.
Reduced time and cost
When your data room for M&A is available on a pay-as-you-go basis, you don't have to spend a fortune to maintain a physical data center — not to mention that your buyers save on travel expenses.
Besides, due to various advanced features, a VDR automates many processes, making it much easier and faster to manage documents and handle issues. Additionally, you can manage several deals in your virtual workspace.
Improved communication
With all the necessary documents at hand, buyers don't have to travel to your physical data room whenever they need more information — they can reach out to you with a question or a request at any time. This will allow you to collaborate with companies from around the globe simultaneously. Additionally, you can streamline communication flow using the Q&A and live discussion features.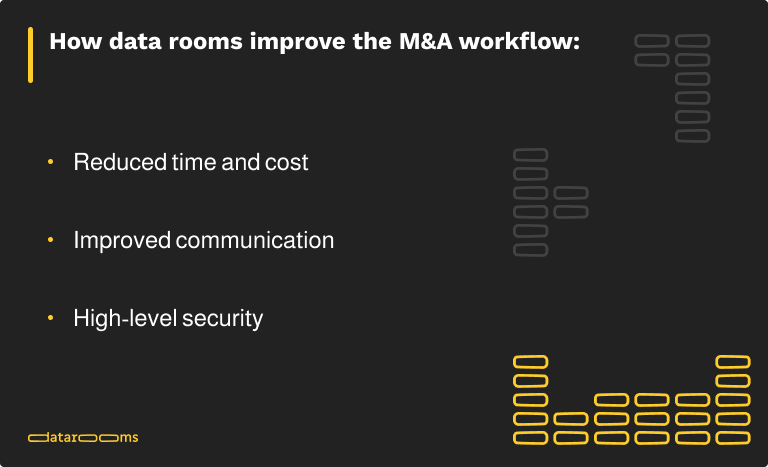 How to prepare the virtual data room
Uploading files
With a superior M&A data room provider, the data room preparation process is easy and fast. You simply drag and drop the needed files and folders into the upload window. Just make sure that your documents are accurate and up-to-date.
Structuring the file system
To enable your buyers to find all the documents they need quickly, structure your file system. Additionally, create a separate folder with all the non-confidential documents required by everyone at the outset of the M&A and a folder with highly confidential files requested by upper management before closing the deal.
Inviting participants to the data room
As soon as your file system is ready, welcome the stakeholders. No matter how many users you invite, a data room allows assigning various access permissions to control who can view, download, and print which files. This way, you'll be able to streamline the process and prevent potential data leaks.
Criteria for choosing a data room for M&A
Security features
Though virtual data rooms are known for their enhanced security, the level of protection varies from provider to provider. So, make sure that your VDR offers the full scope of data protection features, like:
Two-factor authentication
Multiple levels of access to the documents, including restricted viewing mode when a user can see only a part of a document
Dynamic watermarks that appear on documents whenever someone views, prints, or downloads them
Security compliance
When choosing your VDR provider, make sure:
They are ISO27001 and SOC2 compliant
They use physical security, two-factor authentication, and advanced surveillance to protect their data centers
They regularly assess the reliability of their product with the help of independent experts and comply with the latest international software development practices
Reports
Your virtual data room should allow you to track every action, define the most active groups, and identify the most frequently visited document sections.
A built-in reporting and analysis function like this will help you make mission-critical decisions before it's too late. For example, if the buy-side representatives spend too much time on certain documents, they probably have concerns, which you can address proactively.
Ease of use
A typical M&A transaction implies sharing and reviewing thousands of documents. An easy-to-use virtual data room with diverse data structuring functions can speed up this process significantly. Look for a VDR that offers the following features:
Support of various file formats
Multilingual access
Mobile-friendly UI
Scroll-through functionality enabling you to proceed to the following document easily
Support of many platforms, including iOS and Android
Bulk invitations
Integrated Q&A
Using email to answer multiple questions from the buy-side entails problems like data leakage risks and possible confusion on who's seen what. Instead, consider VDRs with the Q&A feature.
It will allow you to control the Q&A process by sorting questions based on groups, folders, and areas of expertise. You can also generate reports to see what kind of issues users face most often. Based on this information, you can create searchable FAQ lists to avoid answering the same questions.
Customization
A virtual workspace styled with your company's brand colors and logo will surely set you apart from the competition. Given that, look for a data room with a superior customization feature.
Along with giving you a competitive edge, it will also reduce manual work, enabling you to customize your documents with watermarks, footers, and headers automatically.
M&A is a complex transaction, and to realize it, you need the best virtual data room with most of the characteristics listed above. To simplify the choosing process, consult our top data room providers list.
TOP 3 Data Rooms
1. iDeals


Read Review
2. Citrix
Read Review
3. Datasite


Read Review