iDeals
Leader in ease of use
4.7/5
4.8/5
4.8/5
About iDeals Virtual Data Room
iDeals is a customer-oriented virtual data room provider that ensures impeccable customer service, ease of use, and bank-grade security. With the help of such features as built-in redaction, granular access control, and advanced Q&A workflows, iDeals helps businesses to grow, stand out, and be effective and profitable. iDeals is extremely easy to set up and customize, and their 24/7 customer support is always there to make user experience spotless via in-app chat, phone, and email.
An iDeals virtual data room aims to make users' businesses more efficient and profitable. Such a business- and customer-oriented attitude is clear from the company's mission statement — "creating more prosperity in the world by accelerating high-stake business decisions."
The company is headquartered in London, England. However, iDeals also has offices in New York, Dubai, Hong Kong, Kyiv, São Paulo, and Melbourne.
iDeals users indicate that they especially like the customer services the company provides, ease of use of a virtual data room, variety of offered features, and their cost-effectiveness.
This is what iDeals virtual data room customers say about the product:
"Excellent customer service. I've been working with the platform for more than 3 years and have no complaints with their customer support." — Alexander U., Associate.
The iDeals customer support team boasts impeccable service — a 25-second phone response time, 30-second chat response time, and 30-minute email response time. Additionally, they offer live trainings with experts, a dedicated project management team, and in-app chat support 24/7. What's more, the support team speaks 13 languages, so users from all over the world can rest assured they will be heard, understood, and helped out.
Besides the virtual data room software, iDeals also has another product — iDeals Board. This is a board management software solution aimed at improving board communications and enhancing board meeting effectiveness.
All the new iDeals clients are welcomed with a 30-day free trial period for testing all virtual data room features. For pricing details and a customized quote, users can contact a sales representative.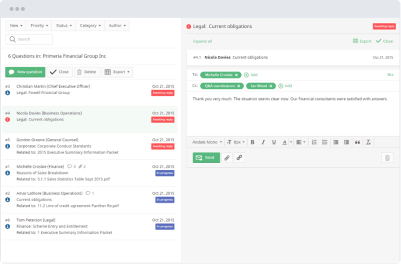 Pricing plans
iDeals has a subscription-based pricing model with three comfortable plans: Pro, Business, and Enterprise. Potential customers can contact a sales representative for pricing details and a customized quote.
The range of features and services differs with each subscription, as each plan was designed to fit the different needs of the project or deal. This is what comes with subscription plans:
Professional
1 Project
5 Administrators
Unlimited Users
Flexible Storage
(Up to 10 GB)
Pricing details
Business
Unlimited Projects
Unlimited administrators
Unlimited users
Flexible Storage
(Up to 250 GB)
Pricing details
Enterprise
Unlimited projects
Unlimited administrators
Unlimited Users
Flexible storage
(Up to 1 TB)
Pricing details
No matter the subscription plan of choice, all customers get:
Two-factor authentication
Detailed audit trails and reports
Remote shred
Distinguished branding
SOC 1/2/3 and ISO 27001:2013 certified data centers
Additionally, all iDeals prospects are welcomed with a 30-day free trial.
However, as expected, the number of features varies with each subscription plan. The table below demonstrates what features are included with the Pro, Business, and Enterprise subscriptions.
Professional
Business
Enterprise
Customer service
Standard
Premium
Premium
Support level
Standard 24/7, email, chat, phone
Premium 24/7, email, chat, phone
Dedicated team
Preparation/trial period
30 days
30 days
Unlimited
Live training with an expert
1 hour per project
Unlimited with shared experts
Unlimited with dedicated expert
Security
Standard
Standard
Advanced
Access expiration by time
Access expiration by IP address
Login to data room from own website
Document management
Standard
Advanced
Advanced
Automatic index numbering
Optical character recognition
Collaboration and reporting
Standard
Advanced
Advanced
Q&A
Standard workflows
Standard workflows
Standard workflows
Customization and integrations
Standard
Advanced
Advanced
Custom branding
Standard
Advanced
Full
Custom Terms of Access and NDA
Single Sign-On integration
Customer-managed encryption keys
Customer support
Customer service quality is what iDeals takes as a top priority, and positive user feedback on trusted platforms such as G2 and Capterra prove it. For example, iDeals customer service offers:
In-app live chat support. Users can get assistance from within the app via live chat.
Multilingual support. iDeals customer support team speaks 13 languages.
24/7/365 availability. All the user queries are addressed quickly at any time of the day.
30-minute email response time. The iDeals support team typically addresses and answers issues within 30 minutes via email.
30-second chat response time. A response using the chat feature is very quick — users get replies from a support team member within 30 seconds.
25-second phone support time. When contacting customer support via phone, users receive an answer within 25 seconds.
Live training with an expert. iDeals makes sure all users know how to use their virtual data room by providing expert live trainings.
Help center with guides and a detailed FAQ section. The most frequently asked questions and common situations are explained in detail.
Dedicated project manager or team. iDeals offers dedicated project managers or teams to simplify project management for clients.
Preparation/trial period. iDeals offers a free 30-day trial for testing their virtual data room or preparation for its active usage.
Deployment
Desktop – Mac, Windows, Linux
Mobile – Android, iPhone, iPad
On-Premise – Windows, Linux
Security features
Essentially, all the security features provided by the iDeals virtual data room can be divided into three main categories: document security, access security, and security compliance and certifications. Below, we list the main features of each category.
Document security
Built-in redaction. This feature allows for the blackening out of certain areas of the text/document or images that contain highly confidential or personally identifiable information.
Remote shred and no-plugin IRM. This feature allows enabling file encryption when it's opened or downloaded.
Fence view. Fence view creates a digital fence that prevents a user from seeing an entire file and, thus, from copying a file or taking screenshots.
Dynamic watermarks. Whenever a document is viewed, printed, or downloaded, personally identifiable marks automatically overlay the file for an additional layer of security.
Secure Spreadsheet Viewer. Unique to iDeals, this feature enables viewing and analyzing Excel files securely. Spreadsheet Viewer downloads, decrypts, applies watermarks, and displays documents in any web browser in an original and secure Excel file — instead of converting it to a PDF.
Granular document permissions. With this feature, virtual data room administrators can specify access permissions for each individual document or folder. iDeals offers eight levels of granular permissions: None, Fence View, View, Download Encrypted PDF, Print, Download PDF, Download Original, and Upload.
Access security
Time and IP access restriction. With this feature, admins can restrict access to a virtual data room from specific IP addresses and for a certain period of time.
Access control and expiration. This feature allows setting expiration dates for file access and specifying user session duration. Additionally, administrators can configure security policies regarding password strength.
Granular user permissions. This feature enables admins to manage users' access permissions based on their role in the project. There are two main user groups — Administrators and Users. Setting user permissions allows for specifying which users can view, download PDFs securely, print, download originals, and edit files in a virtual data room.
Two-factor authentication. This feature allows activating an extra-security step for all VDR users. Users must verify their identity by entering an SMS verification code or a code from authenticator application to access the virtual data room.
User security impersonation. This feature allows administrators to double-check whether certain users have the correct access rights via the "View As" mode. In other words, it allows admins to view documents from a particular user's perspective.
Mobile device management. This feature allows for controlling the accessibility of sensitive documents and managing security features on specific users' mobile devices.
Security compliance and certifications
GDPR. This is an EU law and is considered one of the toughest privacy and security regulations in the world. It helps to protect EU residents and organizations against data breaches from anywhere in the world.
CCPA. This is a state statute that enhances consumer protection and privacy rights for the residents of California, United States.
SOC 1/2/3. The availability of SOC compliance ensures that users' data is securely managed and their privacy and interests are protected.
HIPAA. HIPAA maintains the security and confidentiality of healthcare information.
ISO 27001. This is an international standard on information security management that addresses three dimensions of information security: confidentiality, integrity, and availability.
User management features
The list of user management features iDeals offers includes the following:
Single/bulk user invitation. With this feature, admins can invite users to a virtual data room space individually or in groups of hundreds and even thousands, if needed, with a few clicks.
Detailed user permissions. Virtual data room administrators can manage users' access rights by assigning them to a group, Administrators or Users, and setting up certain access permissions, such as viewing, creating notes, viewing reports, and managing Q&A.
Excel permissions. This feature allows setting up two special viewing permissions for Excel files — View Excel with Formulas and View Excel without Formulas.
Notifications. With this feature, admins receive notifications whenever documents are deleted or uploaded and for Q&A activity.
Group setup. This feature allows admins to manage users' access permissions easily by dividing them into groups with different access levels — Administrators and Users.
Document management features
iDeals makes it fast and easy for users to manage large volumes of data through the following features:
Drag-n-drop and bulk upload. This feature enables a one-click data population. It means users can upload multiple files to a virtual data room by dragging and dropping them from the computer into the upload window.
Multi-format support. iDeals converts 25+ file formats into protected versions for viewing online in a data room. However, iDeals users can upload files of any format.
File labels. Virtual data room admins can label files and folders, thus categorizing them and making document search much quicker and easier.
Automatic index numbering. When uploading large volumes of data to a virtual data room, all files are automatically indexed and numbered in consecutive order.
Full-text search. The full-text search feature is represented by the optical character recognition (OCR) technology that allows for quickly finding certain information by simply entering keywords and applying multiple search filters.
Windows Explorer integration. iDeals ensures the synchronization of data room contents with a desktop, shared folder, FTP, or corporate storage.
Additional features
Distinctive Features
Besides the features mentioned above, iDeals also offers various additional features that ensure easy VDR usage, project collaboration, and control over the secure VDR environment and user activity. Let's review iDeals' reporting, customization, and Q&A features.
Reporting
Full audit trails. With the audit trails feature, every action taken inside a virtual data room is recorded. Thus, administrators can receive a PDF, Excel, or print-friendly version of reports.
User activity tracking. iDeals allows admins to monitor user actions, including search history. They can even see for how long a particular file was viewed by a particular user.
Group overview reports. This feature allows admins to track group activity easily within a data room. Administrators receive various information, such as the number of invited users, how many of them logged in, the number of documents accessed, and the number of Q&A questions posted.
Color-coded reports. This feature graphically displays which group of users is the most active and what sections of a data room they are most interested in.
Customization
iDeals allows customers to personalize their virtual data room by offering a range of customization options, including the following:
Watermarks
Header and footer
Logo
Document labels
Terms of access
Language settings
General data room features
Project archiving
Q&A
The Q&A section allows VDR users to interact on important issues and solve questions quickly with the following iDeals Q&A functionality features:
Customizable workflow and Q&A roles. iDeals allows users to customize the Q&A workflow and roles depending on the needs of the deal or project.
Expert assignment. When posting a question, a user can categorize it under the most appropriate topic, for example, Legal, Tax, Intellectual, Marketing, or Financial. Therefore, an administrator can assign a question to a relevant expert, or the question can also be auto-assigned.
Live discussion. iDeals users can securely interact with each other in a protected live forum with specific access permissions for each person. Everyone who has permission can access various threads and post responses.
FAQs. This feature allows preparing a list of the most frequently asked questions and answers to them so that users can refer to them when having issues. This can significantly improve the collaboration on a deal or project and facilitate the closing.
Question status. The administrator or an assigned expert can add a status to each question posted. It helps to save the administrator's or expert's time and improves collaboration on the deal or project. Question statuses offered by iDeals are Answer Submitted, Closed, and Reopened.
Q&A reports. This feature allows getting detailed reports on all the Q&A communication. This is especially useful for legal purposes. A Q&A report can be exported to a spreadsheet.
Granular access to threads. With this feature, administrators can control access to confidential discussions by providing granular access to threads and attachments. Thus, users only have access to forums they participate in.
Features Checklist
Built-in redaction
Fence view
Remote shred + no-plugin IRM
Dynamic watermarks
8 levels of granular document permissions
Secure spreadsheet viewer
Access control and expiration
Time and IP address restriction
Granular user permissions
"View As" feature
Two-factor authentication
Mobile device management
Branded Website
Bulk Uploads
Drag and Drop Files
Full-Text Search
In Document Linking
Windows Explorer Integration
Scroll-Through Viewer
Q&A Section
Desktop Synchronization
iPad Application
Mobile Device Interface
Multi-Language Support
No Software Installation Required
99.9% Uptime
Web-Based Spreadsheets Viewer
Drag & Drop Upload
Full audit trails
User activity tracking
Group overview reports
Color-coded reports
Product Reviews