Nowadays, online data rooms are an essential tool for M&A teams looking to speed up and optimize their workflows. From file sharing for M&A to communication, virtual data rooms offer everything you need for secure and effective collaboration and performance.
Let's take a look at what M&A data rooms are and how they can help you in the due diligence process.
Check the best data rooms for M&A
?>
Defining M&A data rooms
M&A data room is a secure space for users to share and exchange documents, keep in touch with interested buyers and investment bankers, and stay updated throughout the due diligence process.
In fact, data rooms are now widely used by financial institutions, law firms, and government agencies, as well as companies in education, healthcare, real estate, and other big industries. They help companies ensure the smooth flow of all kinds of processes, but are chiefly important in M&A, due diligence, initial public offering, financial modeling, financial planning, fundraising, and the like.
How virtual data rooms improve the M&A workflow
Since the original reason for developing the virtual data room was M&A, its entire set of features aims to improve and facilitate transactions. Customers benefit from ultra-secure data protection mechanisms, saving them time and money, together with an advanced platform for cooperation.
Data rooms help protect sensitive data, reduce cost, and improve communication.
Enhanced protection
The level of security offered by most virtual data rooms for mergers and acquisitions is very similar to how financial institutions protect their assets, including the use of bank-grade encryption and account protection features.In fact, virtual data rooms are usually certified with security quality seal such as ISO 27001, SOC-2, and others. Additionally, privacy and security features usually include, among others:
2FA account protection
SSO (single sign-on)
Granular file access levels
Dynamic watermarking
256-bit encryption
While data rooms can guarantee a banking-grade security, no company in the world is 100% immune to cyber threats. This is why it is essential to conduct a cybersecurity due diligence in M&A before you commit to a deal.
Compliant with internationally recognized security standards, virtual data rooms encrypt all your data and implement the latest cybersecurity practices, from multiple firewalls to two-factor authentication. Besides, with the help of customizable access permissions, you'll have full control of which third parties see which documents.
Reduced time and cost
When your virtual data room for M&A is available on a pay-as-you-go basis, you don't have to spend a fortune to maintain a physical data center — not to mention that your buyers save on travel expenses.Besides, VDRs automate a variety of processes, making it much easier and faster to manage documents and handle issues. Unsurprisingly, due diligence data rooms can reduce legal costs by half. Additionally, you can manage several business transactions in a single virtual workspace, saving both time and effort.
Improved communication
Data rooms help improve communication in a variety of ways.
First, buyers don't have to travel to your physical data room — they can simply reach out to you with a question or a request at any time. This allows you to communicate with companies regardless of time and location.
Besides, data rooms offer a slew of functions so you can streamline your communication flow, using resources such as the Q&A, live discussion features, document annotations, and more.To improve your communication before, during, and after M&A, check out these essential merger & acquisition questions to ask.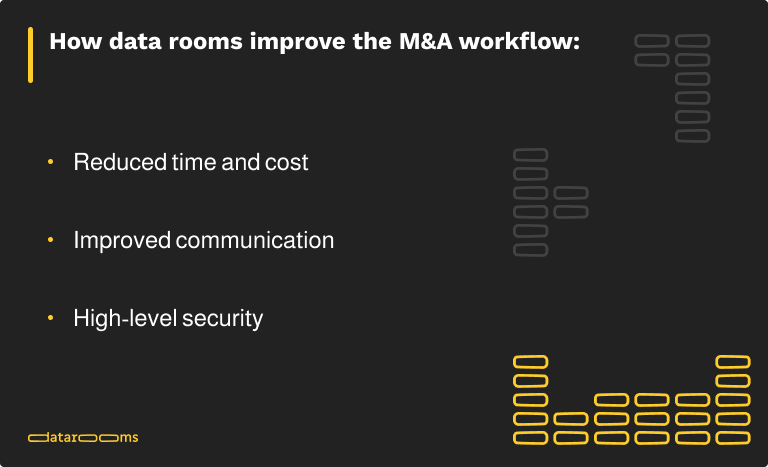 How to prepare the virtual data room for M&A: 3 easy steps
Poor preparation for an M&A deal is a common explanation for why mergers and acquisitions may fail.
That said, a virtual data room purchase is only the first step toward a better deal. It's equally important to prepare your online workspaces so both parties can work comfortably.
There are a few steps to follow to ensure a well-prepared and cost-efficient cloud solution for your m and a process.
1. Upload your files

A good virtual data room provider makes a big difference, starting from the data room in an M&A preparation process. You should be able to do quick drag-and-drop uploads.
Among the documents that can typically be included for due diligence, you'll find:
Basic corporate documentation
Fixed capital and other securities
Tax and financial statements
Assets and property
Intellectual property
Significant agreements
Sales, marketing, and customer data
Key manufacturers and suppliers
Customer support
Regulatory issues
Disputes or litigation
Data on insurance
Employees/HR
Procedures with related parties
2. Structure the file system

To enable potential buyers or other interested parties to find all the documents they need quickly, make sure your data room is well-structured.
This usually means having all the relevant folders and subfolders set up according to the different areas of your company. You can also set up the access level for each folder, which will be relevant in the next step.
Sometimes it can also be a good idea to have separate folders both for the non-confidential documents required by everyone at the outset of the M&A (including NDAs and such), and a folder with highly confidential files that can be requested by upper management before closing the deal.
Additionally, you should consider granular access level types for groups or individuals accessing these folders and double-check those before inviting them to the data room.
3. Invite the participants to your data room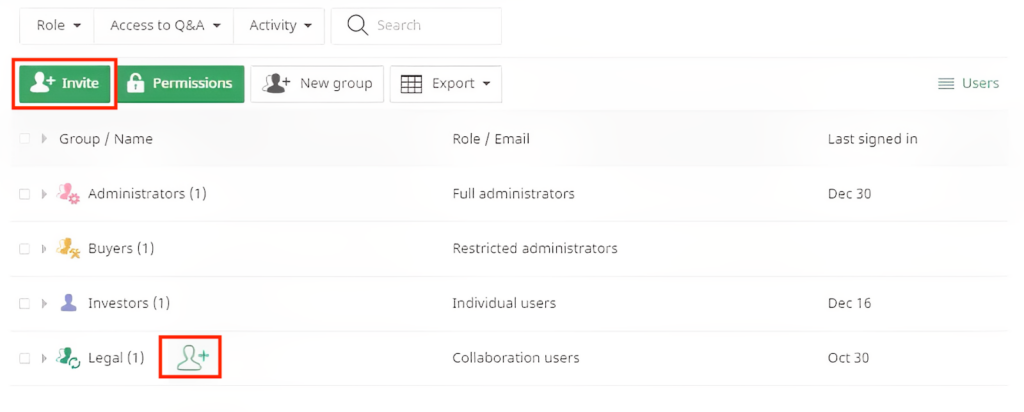 Once your data room is all set up, it's time to invite the users. Here you can give users access to different levels of information, as well as control who can view, download, and print which content. This helps streamline the process and prevent potential security breaches.
0

% completed
TOP provider according to your answers
Criteria for choosing a data room for M&A
Heed a few tips on choosing a secure online repository, as not all virtual data room solutions are the same. Since each potential user is interested in the best product to meet their needs, there are a few simple things to consider when choosing.
Security features
Though virtual data rooms are known for their enhanced security, the level of protection varies from provider to provider. So, make sure that your VDR offers the full scope of data protection features, like:
Two-factor authentication
Multiple levels of access to the confidential documents, including restricted viewing mode when a data room user can see only a part of a document
Dynamic watermarks that appear on sensitive documents whenever someone views, prints, or downloads them
Security compliance
When choosing your virtual data room provider, make sure:
They are ISO27001 and SOC2 compliant
They use physical security, two-factor authentication, and advanced surveillance to protect their data centers
They regularly assess the reliability of their virtual data room with the help of independent experts and comply with the latest international software development practices
Data room activity reports
Your virtual data room should allow you to track user activity, define the most active groups, and identify the most frequently visited document sections.
A built-in reporting and analysis function like this will help you make mission-critical decisions before it's too late. For example, if the buy-side representatives spend too much time on certain documents, they probably have concerns that you can address proactively.
Ease of use
A typical M&A transaction implies sharing and reviewing thousands of confidential documents. An easy-to-use virtual data room with diverse data structuring functions can speed up this process significantly. Look for a VDR that offers the following features:
Support of various file formats
Multilingual access
Friendly mobile access
Scroll-through functionality enabling you to proceed to the following document easily
Support of many platforms, including iOS and Android
Bulk invitations
Integrated Q&A
Using email to answer multiple questions from the buy-side entails problems like data leakage risks and possible confusion on who's seen what. Instead, consider the virtual data room with the Q&A feature.
It will allow you to control the data room Q&A process by sorting questions based on groups, folders, and areas of expertise. You can also generate reports to see what kind of issues users face most often. Based on this information, you can create searchable FAQ lists to avoid answering the same questions.
Customization
A virtual workspace styled with your company's brand colors and logo will surely set you apart from the competition. Given that, look for a data room with a superior customization feature.
Along with giving you a competitive edge, it will also reduce manual work, enabling you to customize your documents with watermarks, footers, and headers automatically.
M&A is a complex transaction, and to realize it, you need the best virtual data room with most of the characteristics listed above. To simplify the choosing process, consult our top virtual data room providers list.
These features can be found in the best data rooms, such as the ones below. You can also check out our extended list of M&A virtual data room providers.
M&A deal room: Physical or virtual?
| | | |
| --- | --- | --- |
| | Traditional data room | Virtual data room |
| Storage | Requires manual work to access the documents or put files away. | Files can be accessed by multiple parties simultaneously and at any time. |
| Access | Isn't open at all times; taking files home requires special permission. | Vetted users can access at any time; permission to private folders can be requested with a click. |
| Scalability | Size of physical location may limit scalability or require moving to a different storage space. | Most data rooms are infinitely scalable; users can always upgrade to a more spacious plan. |
| Cost | Rent, cleaning, and transportation are all costs typically associated with physical data rooms. | You usually pay a monthly subscription. Some data rooms may also charge per user, per storage space, etc. |
| Security | It can be hard to keep track of files once they're out of the data room. | Virtual data rooms usually allow you to limit and track access to files and remotely destroy files even after download. |
| Teamwork | Several individuals working on the same file will often need to work on different copies and then compare notes. | Online data rooms allow multiple users to work on the same file with features such as instant sync, comments, and messaging. |
Practical tips for M&A dealmakers
Now that we've gone over the technicalities of setting up a data room, here are a few general tips to keep in mind for your deals.
Build trust
Successful deals require a high level of trust. How do you achieve that? The best answer is transparency.
To that end, make sure both parties are on the same page at all times. If something isn't clear, don't be afraid to ask; conversely, be ready to volunteer any information requested by the other side.
Delegate
The urge to micromanage can be a big issue — resist it. If you find yourself out of your depth, delegate to someone who understands the subject at hand better.
This may require bringing lots of other parties into the fold: lawyers, accountants, what have you. But that's exactly what a data room is for — you can easily invite anyone and give them access only to the areas relevant to the questions you have.
Be mindful of sunk costs
It's hard to avoid building expectations, especially after significant time and effort has been invested into a deal. But, as can be seen in recent mergers and acquisitions in 2022, sometimes, backing out is objectively the best course to follow.
So be aware of the sunk costs fallacy and remind yourself no deal is too good to walk away from.
Key takeaways
As you can see, data rooms have become a modern and powerful alternative to physical data rooms.
They bring a host of advantages made possible by technology, including a highly secure environment and plenty of collaboration opportunities.
Moreover, a virtual data room is by nature more scalable, and allows for more agile and efficient work throughout.
To find the best data room for your use case, determine the features you need and use a comparison table of the best data rooms for M&A.
Once you've picked your provider, it'll be time to upload all your data and structure the data room before inviting users and getting started. Happy dealmaking!
FAQ
A virtual data room, or VDR, is a platform where different users and companies can work on the documentation process for a merger or acquisition. A VDR M&A offers benefits in security, ease of access, and communication efficiency.
A virtual data room can be a great help in the due diligence process, as it offers a high level of protection to sensitive information, makes uploading files faster, and offers many other advantages to both sides of the deal making process.
Setting up a data room M&A process is fairly simple. After settling on a data room provider, set up the folder structure for your data room, upload your files, determine access levels, and invite users to it.