Venue by DFin
-/5
5.0/5
-/5
About Venue by DFin
A Venue virtual data room by Donnelley Financial Solutions accelerates deals securely and affordably. Thanks to such features as multi-file redaction, AI contract analytics, automatic watermarking, virus scanning, and role-based access control, Venue ensures secure document sharing during any complex transaction. A Venue virtual data room is used primarily in healthcare, finances, energy, technology, or franchise management.
Donnelley is a company founded in 1983 and headquartered in Chicago, Illinois, USA. Its history traces back to its parent company R. R. Donnelley which launched as a printing and publishing company in 1864, but now offers several products including the Venue data room.
Venue virtual data room software has been chosen by the leading startups, PE firms, investment banks, and government agencies for strategic transactions.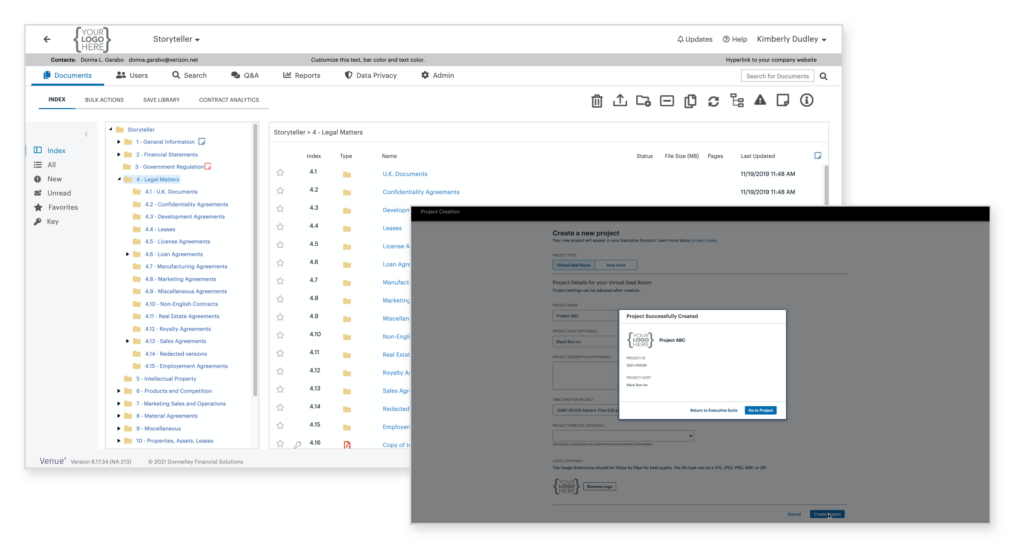 Document security features
Venues' target is to protect customer data at all costs. It has been recorded across the globe that an increasing amount of sensitive information is being collected. The proprietary data redaction software helps locate, secure, and control data. Donnelley data room also applies the following security practices:
Location system. The location system automatically scans millions of pages in minutes. It locates sensitive information with leverage pattern matching technology and helps find information in unstructured file formats.
Redaction. The security system allows you to apply a redaction mask or anonymization to data files, as well as redact third-party information that's related to governance, risk, and compliance.
Data access control. Gain ultimate control of sensitive information within the data room. Approve physical data via approved partners and gain the same level of control as you receive on digital data.
Venue's industry-leading technology system ensures top-class security features such as multi-factor authentication, 256-bit encryption, adherence to SOC2 standards, automatic watermarking, and more. You get high-speed and secure file transfer through the Teridions Cloud WAN service.
The company applies multiple security measures starting from data protection and ending with user security. As an owner of a data room, you can set restrictions for others for viewing, downloading, screenshotting, and printing documents. Try dynamic watermarking for better security; watermarks include the viewer's email, IP address, account name, and any additional information.
Collaboration and document management features
The Venue virtual data room modernizes your document management and collaborations for everything from M&A due diligence to internal communication. Here's how:
Financial services use secure data rooms to communicate with customers and colleagues so that they can exchange confidential information from multiple parties and work on substantial projects.
M&A deals, clinical trials, secure file exchange, fundraising, listing biotech companies, and regularity communications all use virtual deal rooms.
Biological companies save time and are ensured complete data security for every IPO in the biotech industry.

The Venue data room software is easy to use, safe, and profitable. You can optimize the due diligence process by transferring all negotiations and documents from unsecured emails to a secure virtual data room that keeps everything under control and safe.
Investing in new infrastructure tends to be tricky. Venue smooths out the process of complex auxiliary transactions and completes them effectively. Users can keep information regarding the cash flow of infrastructure and utilities, receive ideas for successful results, monitor workflows, and receive secure and intelligent offers.
Document management functions are focused on the processes of viewing confidential data in corporate transactions. You get records of document access and information on who has viewed which folders and files.
Customer support
Donnelley's Venue client services are available 24/7. You can get support in over 10 countries worldwide by filling out a contact form on the provider's website or by phoning a country-dedicated phone number.
Receive support in multiple languages, including English, Chinese, French, and German. Or contact a regionally assigned project manager who will guide you through the website or product. In the case of media inquiries, use a separate dedicated email address for support.
Acknowledge that DFIN is an extensive Knowledge Hub that contains blog posts, reports, case studies, news, and webinars. Meaning it will be hard to find detailed information about troubleshooting. However, users can seek through the wide amount of efficient tips given for setting up data rooms.
Donnelley data room provider offers responsive 24/7 customer support, which can be reached via email or phone. There are several local centers as well as an Online Help Center, where you'll find answers to the most common questions.
Additional features
The Venue virtual data room has a very simple setup process. Once you have created a deal room, it's possible to instantly bulk upload all information and documents without a delay. With such a quick upload system documents still save their native forms and formats without getting compressed.
The company applies Al technology and machine learning to automate tasks and integrates with the eBrevia tool to make the data rooms more powerful. This collaboration can analyze 50+ files in less than a minute, immediately find relevant options during file searches, and extract 115+ data points.
You can also get accurate and insightful analytics to track buyer behavior and manage the deal process securely. You get full transparency over projects with multi-deal management tools, automatic electronic archiving, and scheduled reports.
Pricing plans
Donnelley Venue's virtual data room does not publicly disclose its pricing. Venue states that they offer Al-powered analytics, virtual data rooms, reporting applications, content delivery, regulatory compliance, and dozens of other tools.
Luckily, the Donnelley Venue provides a free demo period for you to experience those tools and try them for yourself. This should help you decide on a pricing package and a feature set that will fully meet your needs.
Compare TOP-3 leaders
Features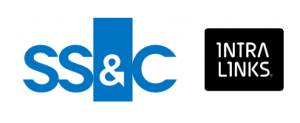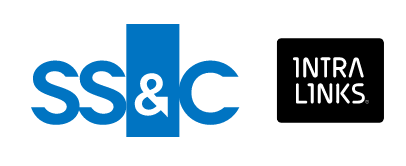 User feedback
4.7
3,8
3,5
Ease of setup
4.7
3.6
3.0
Value for money
4.6
3.6
1.0
Customer care
4.8
4.3
4.0
Pros/cons
24/7 chat support
30-second response time
8 levels of access
25+ file formats
15 languages support
Search with OCR
Advanced Q&A module
24/7 live support
4 levels of access
AI-redaction tool
Multi-format support
8 languages support
Advanced Q&A
24/7 live support
Different levels of access
Multi-format support
Advanced Q&A
No project managers
No multilingual interface
No auto-indexing
Features Checklist
128-Bit and 256-Bit SSL Encryption
Data Backup
Secure File Viewer
SOC2
Permission Groups
2-factor Authentication
Bulk Uploads
Drag and Drop Files
Microsoft Office Integration
Dynamic Watermarking
Audit Logs
Scheduled Reports
Product Reviews
FAQ
Donnelley Financial Solutions Venue is a top provider of modern software, technology-empowered solutions for financial regulatory and compliance purposes. It combines powerful analytics, AI technology, and machine learning to facilitate deal management across many industries.