Drooms
-/5
4.6/5
4.5/5
About Drooms
Drooms VDR is one of the leading data room and software providers in Europe. Its mission is to enable smooth and secure data processing practices for confidential documents, which is why Drooms offers maximum security to over 15,000 global customers.
Drooms is a German Proptech company operating since 2001. Now Drooms has branch offices in Vienna, Amsterdam, Paris, Milano, London, and Madrid. Drooms delivers software worldwide.
Drooms' clients work primarily in commercial real estate, corporate finance, legal services, M&A, and non-performing loans. Drooms provides a cloud SaaS software solution deployed on Mac and Windows desktop operating systems with applications available for iPhone and iPad. Additionally, its help desk is available 24/7.
Droom's key features are data storage management, document tagging, due diligence management, auditing, diversified permissions, and GDPR data protection.
The software suits all-sized companies — everything from small startups and huge corporate enterprises. Some of Drooms large, well-known clients include Gedeon Richter, Allianz, Philips, Bayerische Hausbau, OmniVision, H2V, In Extenso, Empira, and Dataform.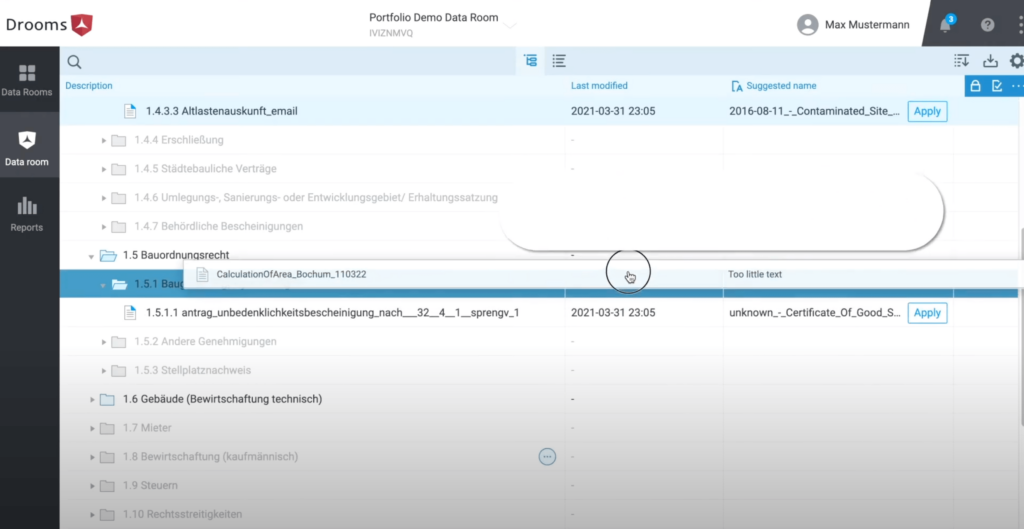 Drooms offers the following solutions:
Drooms transaction data room – due diligence for real estate transactions, AI-driven, online access, advanced permissions, and documents translation

Drooms portfolio data rooms – solutions for lifecycle asset management, cloud portfolio, advanced permission, two-factor authentication

Drooms enterprise – a centralized workplace to store and share files, providing full online access to data, document translation, and branding

Drooms artificial intelligence – an advanced in-house technology resulting in document translation, auto allocation, and auto naming processes

Drooms services – a suite of features that includes a dedicated project manager, 24/7/365 support, document structuring, physical data room management, and documents digitization

Drooms API – application programming interface for direct interaction
Document security features
According to industry best practices, Drooms adheres to the European GDPR data protection regulation and ISO 27001:2013 and 27018. Data proceeds through TLS connections and AES 256-bit encryption.
Regular external security audits take place to audit all company's data protection measures in place. Other security features are advanced access permissions, diversified user rights, personalized watermarks, multi-factor authentication with PIN and SMS, limited IP access filter, and user activity reports.
Data storage is held on privately owned servers.
Collaboration and document management features
A Drooms VDR offers a collaboration tool and the following document management features:
Document generation
Document classification
Document tagging
Document translation
Branding
Watermarks
Optical character recognition (OCR)
File conversion
File view
Quality preview
Drag-and-drop
Archiving
Data storage management
Drooms provides a dedicated manager to help you proceed with deals. Additionally, Drooms offers support available 24/7/365 by live chat, phone, or email. Their support team can assist users in German, French, Dutch, English, Italian, and Spanish.
There are also informative Q&A modules, an FAQ forum, and comprehensive training assistance. Additionally, users can access their documents anytime from anywhere with only an internet connection.
Customer support
Drooms provides 24/7/365 technical support in multiple languages, and the support team is based in Frankfurt.
Additional features
A Drooms virtual data room offers many unique features that customers value:
Artificial intelligence for optimized technological workflow
Diverse customization for data room branding
Q&A tool to add or link attachments and answers
Project management (a dedicated manager and support desk)
Document structuring, indexing, and translation
Verified permissions to provide users with proper access
Physical data room assistance (collecting, printing, and handling documents securely)
API to link your company applications with other software systems
Security and European laws fulfillment due to private servers, external and internal auditing, encryption, and access options
Real-time reporting on all user activity
Pricing plans
Drooms offers its services as a monthly subscription:
A free 30-day trial version is available for up to 5 users and 1 GB of storage, 4 basic features, plus a couple of custom ones.
The Pro pricing model includes 10 paid users, 3 GB of storage, and basic features. Additional features can be purchased individually to suit users' needs.
The Custom pricing model allows an unlimited number of users and storage capacity and numerous other Drooms features.
The Pro Plan includes features like company branding, highlights, and notes, text search in different formats, multi-factor authentication, and round-the-clock support.
Other features (Q&A, inviting users or uploading more documents, translation, indexing, or advanced permissions) can be customized as your requirements transform.
Features Checklist
SSL Security
Watermarking
Access Controls/Permissions
Role-Based Permissions
Secure File Viewer
Multi-Factor Authentication
Drag & Drop
Bulk Uploading
Full Text Search
Optical Character Recognition
Activity Tracking
Audit Trail
FAQ
Drooms data room is a secure platform for storing and sharing confidential information. With features like auto-indexing, file versioning, secure sharing, and more, Drooms makes it easy to find what you need quickly. It also offers real-time document tracking and notifications, so you always know what's happening with your data.