Ernst & Young's CEO outlook survey has found that IT systems are among the five key drivers of M&A costs in 2023. Companies reduce deal costs substantially by using virtual data rooms if they choose a beneficial virtual data room pricing model.
Datarooms.org researched the pricing information of 116 virtual data room providers and shared the results in this article. This time, you will learn about the six data room pricing models with price ranges and averages. Keep reading to discover the data room price comparison of the top 15 data room providers and seven factors influencing VDR prices. Lastly, check five different approaches for selecting VDR prices and get a checklist of 16 self-assessment VDR selection questions.
VDR Provider
Our Ranking
Price
Pricing Plan
Best for
Free Trial
Details
iDeals Virtual Data Room

4.9

Flexible
Per month

All industries
M&A
Due diligence

30-day trial
Request Pricing
Intralinks Virtual Data Rooms

4.6

$$$$
Not provided

M&A
Due diligence
Finance

30-day trial
View Profile
SmartRoom VDR

4.4

$$$
Per month
No free trial
View Profile
Box Data Room

4.3

$
Per month
14-day trial
View Profile
Citrix Sharefile

4.3

$$$
Per month, annually

Due diligence
Finance
Legal

30-day trial
View Profile
Dealroom Virtual Data Room

4.2

$$$
Per month
14-day trial
View Profile
Ansarada

4

$$
Quarter-based

Finance
Technology
Real estate

Yes (unlimited for advisors)
View Profile
Brainloop

4.1

Not provided
Per month
Yes (no info on its duration)
View Profile
Datasite

4

$$$
Not provided
Only by request
View Profile
Venue by DFin

3.9

$$$
Not provided
No free trial
View Profile
EthosData

3.8

$$
Per month
30-day trial
View Profile
Dropbox

3.8

$$
Per month
30-day trial
View Profile
Drooms

3.6

$$
Quarter-based
30-day trial
View Profile
OneHub

3.2

$$
Per month, per team
14-day trial
View Profile
ForData VDR

3.3

$$$
Per month
14-day trial
View Profile
Data room pricing models
Virtual data room vendors use several pricing structures and vary widely when billing for their virtual data room solutions. We have analyzed the pricing structure of 116 virtual data room providers, 72 of which provided pricing details publicly.
These VDR providers charge per user, per page, per feature, based on document storage capacity, or provide mixed plans, combining some of these features. Many providers also offer fixed subscriptions.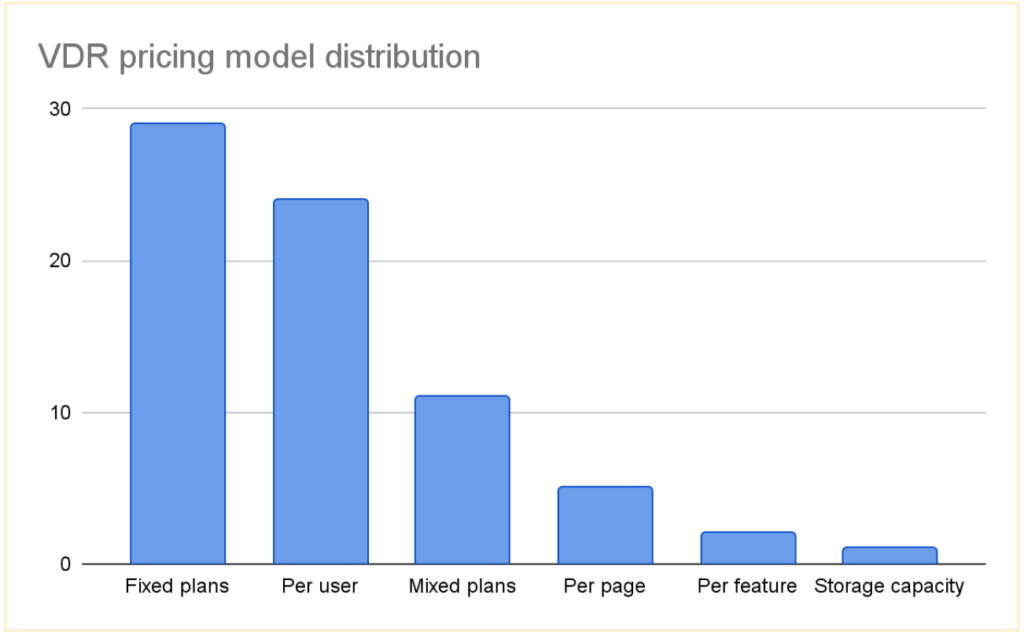 To make an informed decision, it's best to know your options. So here are detailed descriptions of pricing models with average numbers based on 72 data room providers.
Fixed plans (flat monthly fee)
Fixed subscriptions include flat-rate pricing plans with predetermined services and products. This is the most popular billing approach in the virtual data room world today, offered by 29 out of 72 VDR providers. These data room vendors charge between $10 and $1,295 monthly or $241.87 per month on average.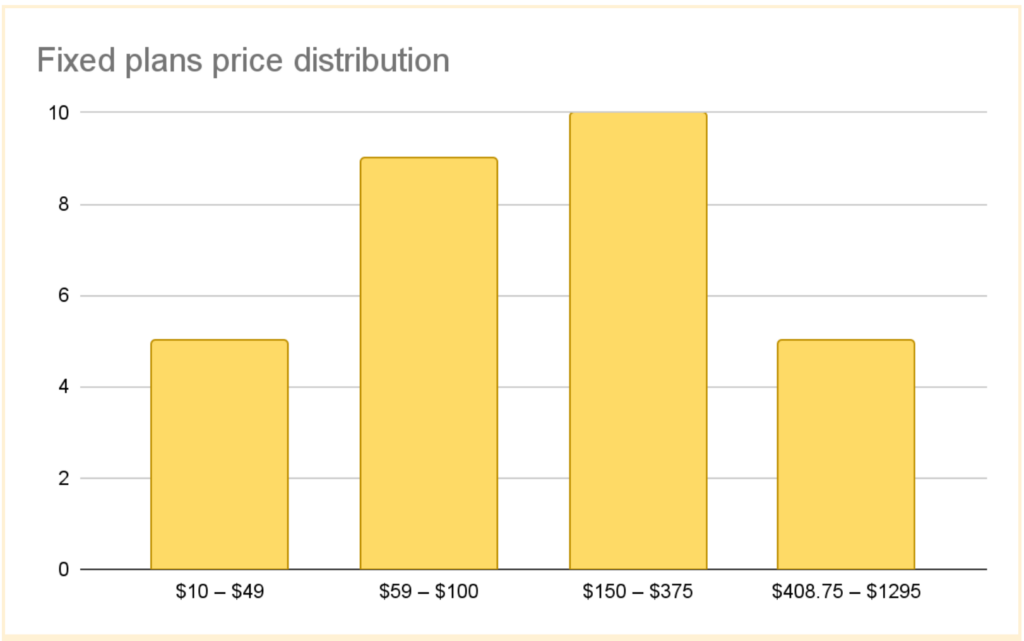 It's worth noting that these price ranges are based on monthly payments, while many VDR vendors offer subscription discounts under yearly plans.
VDR vendors can mix and match various features, like 10 GB of storage + one project + unlimited users, and limits with competitive pricing to suit the needs of an average business.
Many VDR providers also offer negotiable custom plans for larger companies. If you're an enterprise-scale business with multiple extensive projects in the works, you'll definitely benefit from an option with unlimited storage and data rooms.
Most likely, the deal room vendor will also throw in some extra perks in the form of personalized support, a more sophisticated system of roles for access control, and so on.
Best for business: All types of businesses as tiered fixed plans suit companies of any size.
Per-user
The per-user pricing model involves a recurring monthly fee based on the number of data room users. Paying for the number of VDR users is one of the oldest and simplest options available. Overall, 24 out of 72 data room vendors charge per user.21 providers offer between $2.5 and $120 per user per month, with an average of $31.72 for one user. The other three vendors provide monthly subscriptions based on specific user counts, between $500 and $1,000 monthly.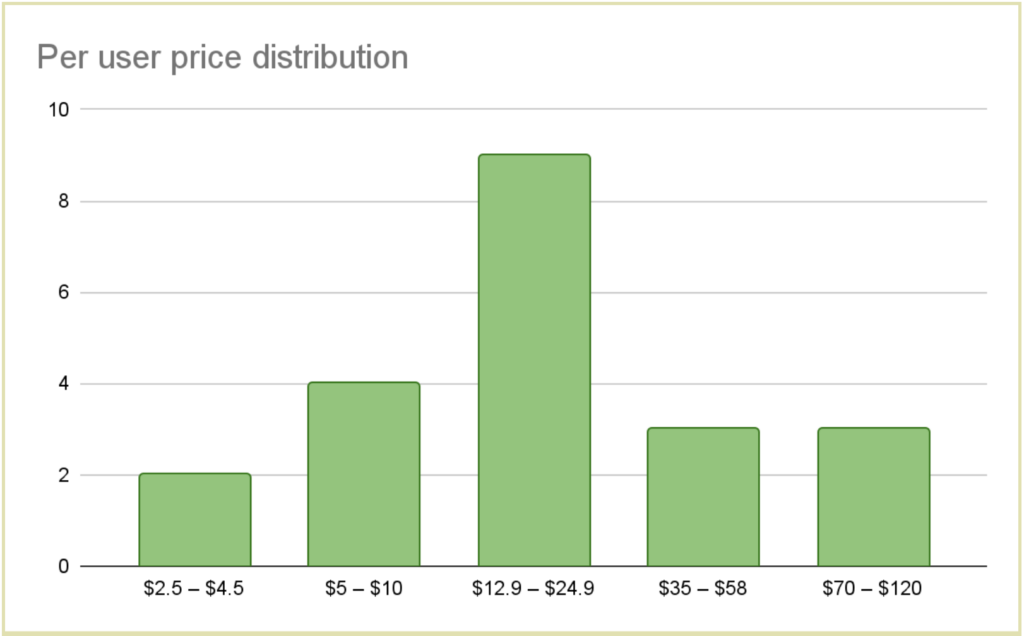 If your business transactions involve an intensive exchange of data, and you know how many users are expected, this pricing model may suit your company best.
Best for business: Small companies (under 100 employees) and startups using large data volumes.

Check this selection guide on a virtual data room for startups.
Per-page
The per-page pricing model involves a monthly subscription based on the number of document pages processed via the data room. This pricing model doesn't seem to be popular as only five out of 72 vendors offer this pricing model. The price ranges between $0.1 and $0.75 per page, with an average of $0.48 per page or $4,800 per 10,000 pages (~ 1 GB).
Per-page pricing normally includes the option of buying additional capacity for an extra fee. Additionally, VDR companies may count pages differently depending on document types, especially non-PDF files. As a result, this pricing model appears highly expensive and unpredictable in the long run.
Best for business: Companies with a small document flow in short deals, usually under 1 GB per month. Otherwise, you will significantly overpay compared to other pricing models.
Document storage capacity
The storage capacity pricing model involves a recurring subscription based on the GBs used in the data room. It's a rare approach, represented by DealVDR by Finsight. It charges $416 per GB of storage, with unlimited admins and users.
Per-GB pricing model may be your best option if your online deals don't generate high volumes of data like audio or video recordings and other large files. Otherwise, you'll have to constantly upgrade your data storage, which might incur substantial additional cost.
Best for business: Companies exchanging predominantly small textual files.
Per feature
The per-feature pricing model includes a recurring subscription based on hand-picked products and services tailored to specific needs. Only two out of 72 VDR providers follow this approach, offering $92.25 and $184.5 per month as starting prices. Due to data room scaling, you can pay much more than that in the long run.
Best for business: Companies working with short deals under predetermined requirements.
Mixed plans
Mixed plans are recurring subscriptions that combine features of fixed plans and other pricing models. Such VDR providers charge $337.3 per month on average. Some VDR providers may offer low-tier per-user and per-feature plans and top-tier fixed subscriptions. Overall, 11 out of 72 VDR vendors follow this approach.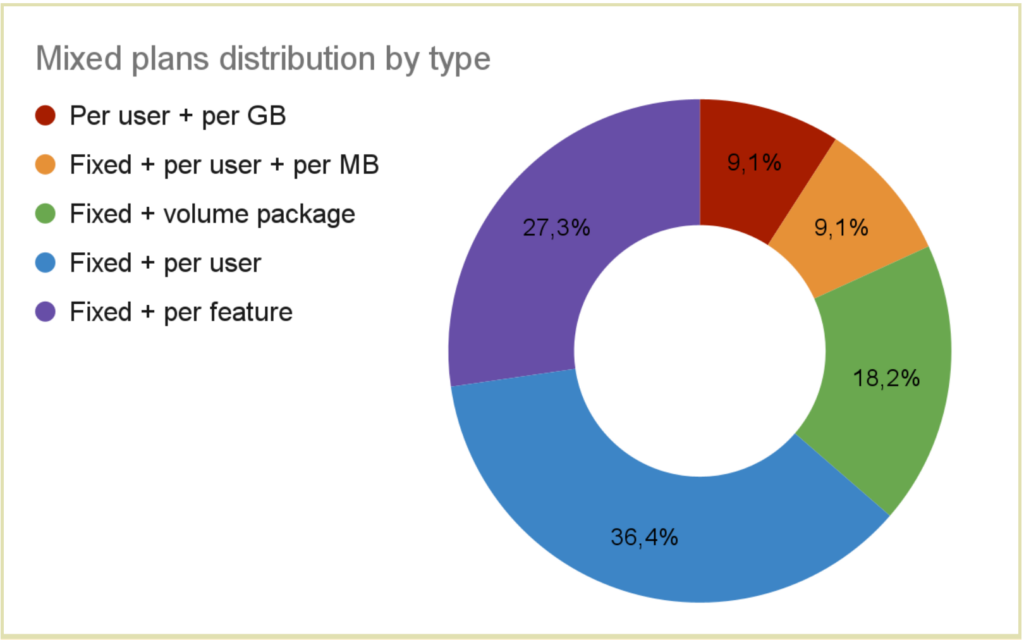 Best for business: Small and mid-sized companies with on-demand deals and varying requirements.
Factors that impact cost of virtual data room in 2023
Comparing the following virtual data room options helps understand the virtual data room cost and its value for money. This way, you can gain confidence in a good investment that benefits your team's productivity and performance.
Security
Protecting sensitive data is the backbone of the virtual data room solution and its main purpose. Therefore, this is the most important criterion for potential users to compare. And here's what to look for in the list of security features:
256-bit encryption
Advanced two-factor authentication procedure
Dynamic watermarking
Data recovery options
Compliance with international safety certifications
Secure storage of confidential information
Document management tools
In addition to secure data storage and exchange, you should have convenient tools for data management, namely uploading, downloading, structuring, moving, deleting, editing, etc.
Bulk upload
Drag and drop
Automatic indexing
Extended document search
Support for many document formats
Remote shred
Version control
Built-in electronic signature
Project management
Besides providing document security and features for managing sensitive documents, data rooms also offer project governance throughout the whole lifecycle. Consequently, teams get integrated capabilities for simplifying and streamlining workflows and communications within the team and managing multiple deals simultaneously.
For example, they always have access to the company directories in the data room, tasks assigned to participants, all requests from other parties, due diligence data requests, all digital documents included in the checklist, integrations, and milestones.
The amount of storage
It's essential to have enough cloud storage for intense information exchange during the deal and post-merger integration. Regarding storage, aim for your business needs, but it's important to have at least 10 GB (100-500 GB is better) for long-term cooperation.
0

% completed
TOP provider according to your answers
The number of users
M&A deals involve many participants, from senior managers, board members, CFOs, and CEOs, to lawyers, investment bankers, and other advisors.
Harvard Business Review has found that companies spend over $40 billion on advisors yearly, and that's a lot of user licenses in the data room. Therefore, it's better to aim for plans offering unlimited users and administrators.
Branding options
Employer branding helps recruit new people, reduce hiring costs, and improve employee engagement, according to Entrepreneur.
The same rules apply to digital branding, including virtual data rooms. Therefore, it's better when a data room features the following branding options:
Custom NDAs and other agreements
Corporate logos and color themes
Customizable invitation emails
Customizable headers and footers
Advanced features
This feature set is not native to all VDR providers but has a highly positive impact on workflows and collaboration through:
Task management. The team becomes more organized with the ability to assign tasks and track their progress by the manager. In addition, each team member is aware of assignments and deadlines, knowing their roles and responsibilities in the project.
Slack integration. This integration makes workflows more team-based, resulting in document sharing and messaging optimizations. However, if the virtual data room software itself includes many features for these processes, the Slack integration changes nothing.
Built-in Excel viewer. With Excel viewer, you access and view spreadsheets right on the virtual data room platform without any plugins.
Deep analytics. Detailed information on the session duration, how many times your confidential documents have been downloaded, viewed, or printed, and the number of users who opened a particular file is a source of valuable insights when dealing with investors, potential buyers, etc.
Smart search. A unique mechanism allows you to search through the entire content, and before opening the document, it shows you a fragment of it.
How to select the most beneficial data room pricing approach?
You can follow this guideline with self-assessment questions to choose the most cost-effective data room pricing approach.
Outline your needs
You should outline your requirements first, including the type of deal, data room use duration, number of users, etc. It will help you shape the ideal data room for your needs. Check the following questions:
What will I use the data room for?
Example: M&A, document storage, daily collaboration.
How many users will I need for this?
Example: 20, 30, 50 users, or an entire company.
What types of documents will I store in the data room?
Example: Videos, PDFs, images, and text files.
How much storage do I need for these documents?
Example: 1 GB is 30 minutes of HD video, 600 HD images, and 10,000 documents.
What VDR features do I need for this?
Example: Fast upload, 256-bit encryption, granular permissions, etc.
Define your data room budget
It will be easier to choose the best data room pricing model for your needs if you estimate the budget for your project. Check the following questions:
How much can I spend on the data room, considering my needs and project duration? Example: $2,500 for three months, $15,000 a year.
How much can I allocate for scalability data room costs?
Example: $5,000 of extra costs a year.
How does my traditional project budget compare to a data room budget?
Example: $50,000 vs $20,000.
Compare virtual data room providers
Once you establish your data room requirements and budgets, you can see whether data room providers' pricing policies match them. Check the following self-assessment questions:
What pricing model does a VDR provider offer?
Does this VDR provider meet my project requirements?
Does this VDR provider meet my security requirements?
Does this provider offer unlimited users, admins, and storage?
How costly are data room scalability options in this VDR provider?
Does this provider offer a free trial?
Does this provider offer custom plans based on client needs and requirements?
Are there real-life reviews of this data room provider?
Negotiate with data room providers
It's possible to negotiate specific payment terms and features under VDR pricing plans. For instance, some data room providers don't charge anything until a project goes live. You can communicate your needs and agree on lower rates than officially stated.
Search for promotions and discounts
You can check for discounts and promotions. Many data room providers offer up to 45 % annual discounts, welcome discounts, and special offers for bundled services. You can also follow data room providers' websites through referral programs offering price drops for affiliated clients.
Decide on the best pricing approach
Now, let's calculate the cost of a data room project with the following parameters based on average prices of VDR providers in our research:
30 users
10 GB of secure file storage
6 months duration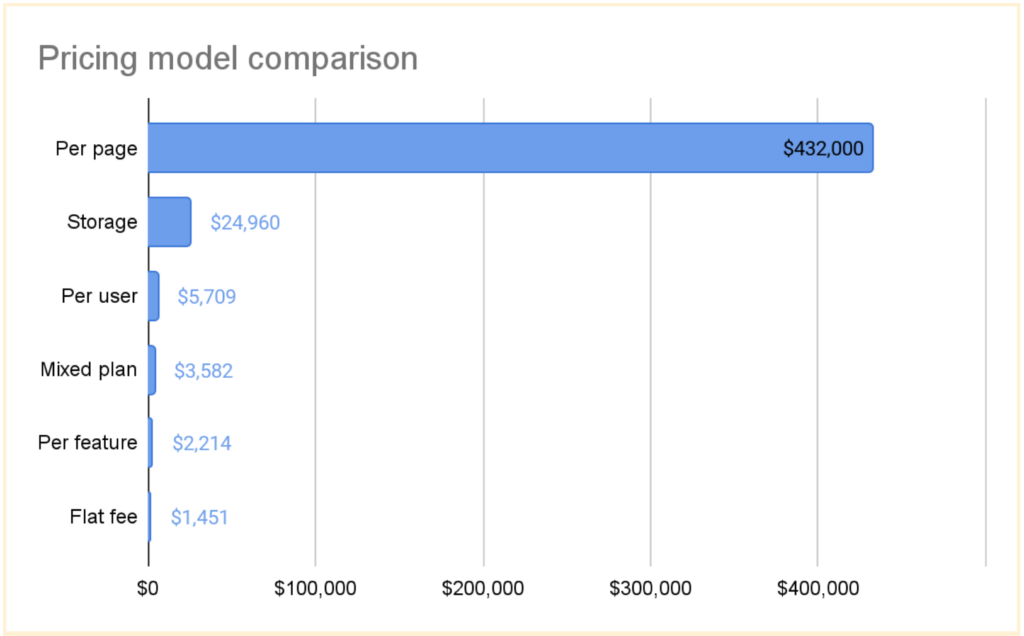 VDR vendor's reputation
A modern-looking website, rich features, competitive pricing, and a promise of flawless operation and non-stop support — what more could you ask for? While this may be the VDR provider of your dreams, it's best to double-check with impartial sources.
To form an unbiased opinion of a vendor, we highly recommend reading reviews and client testimonials on trusted resources like G2, Capterra, or Software Advice. You're also welcome to check out our in-depth rating of the best virtual data room providers.
Is it worth investing in a virtual data room?
Investing in a virtual data room solution benefits all business processes since VDR providers give you:
Top-notch security. Modern VDR providers deliver 24/7 protection, regular system updates, and well-coordinated work of anti-virus programs to prevent all risks. Compliance with international standards guarantees a comprehensive approach of the VDR vendor to security aspects.
Convenient file sharing and document management. Virtual data rooms include state-of-the-art tools that streamline the due diligence process, M&A, fundraising, IPOs, and other corporate transactions. M&A workflows, messaging tools, drag-and-drop upload, redaction, and engagement reports help partners, investment bankers, and potential buyers accelerate deals.
Complete control over data and users. Virtual data rooms offer cutting-edge features for granular permissions and file tracking. Admins can configure the functions of viewing, editing, printing, sharing files, etc.
Expert support. The best virtual data room providers have a team of professionals on staff to provide 24/7 technical support and onboarding assistance.
Key takeaways
Datarooms.org's research on 116 data room providers found six pricing models, including fixed, per-user, per-page, per-feature, per-GB, and mixed plans.
The main factors defining data room pricing are security, data room features, storage capacity, user count, and branding options.
It's crucial to find your best pricing approach as it allows you to save the IT costs of your deal and improve workflows with the most beneficial data room.
While choosing a data room pricing plan, define your needs and budgets, use virtual data room cost comparison, and negotiate discounts. Don't underestimate the value of real-world virtual data room reviews, take your time, and remember: a free trial is worth a thousand words.
FAQ