OneHub
4.2/5
4.5/5
4.5/5
About OneHub
OneHub secure virtual data room is a solution that businesses use for storing and sharing sensitive information. It is a reliable and cost-effective way to exchange documents, negotiate, and draft contracts.
OneHub was founded in 2007 in Seattle. Now, it is operating in eight countries. Its mission is to provide better software and tools for businesses to help customers work more efficiently.
Over one million customers have used OneHub since 2007, having shared more than four billion files within its virtual data rooms.
OneHub's virtual data rooms work well for various companies in different industries. Most specialize in due diligence, M&A, legal services, marketing, commercial real estate, consulting, fundraising, debt financing, bankruptcy, and clinical studies. However, OneHub also works with construction, engineering, education, healthcare, insurance, manufacturing, marketing, and media companies. A common OneHub user can be either a small or large-sized established business.
The most important thing about virtual data rooms is data protection, so OneHub provides complex passwords, granular permission structures, data encryption, and dynamic watermarking to ensure secure file storage and sharing.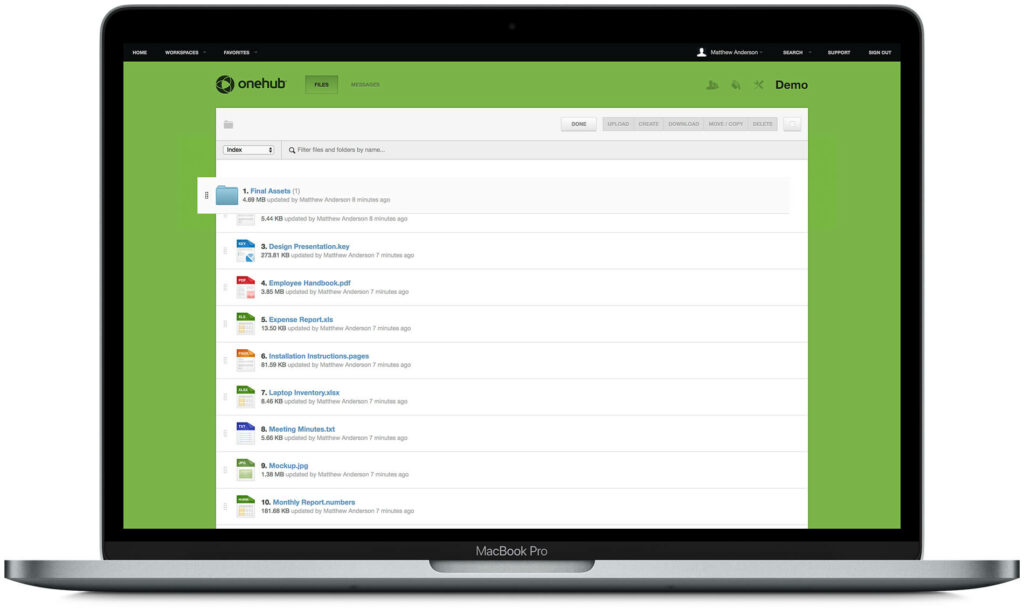 Document security features
OneHub guarantees safety and reliability for critical business files and safe file storage and sharing.
Business file protection measures include granular document permissions, view-only mode, access restrictions, access expiry, watermarks, and 256-Bit SSL/TLS encryption of data both at rest and in transit.
Collaboration and document management features
Access security works with two-factor authentication, mobile device management, granular user permissions, group permissions, and access expiration. Using OneHub, customers benefit from essential data room features for project management, file storage, file sharing, collaboration, and many other important tools. These robust business tools allow for:
simple uploading (including multiple files at a time, drag-and-drop option)
detailed activity tracking for every user
quality previews for over 30 file formats
customizing manual preferences for workspace organization
individual branding
high-security standards for confidential documents (encryption, access settings)
advanced permission rights
There is one more vital OneHub virtual data room feature that enables users to manage workflow tasks better. That is the collaboration tool, which includes email notifications for new documents, files, and folders notes, secure user messaging, and two Q&A modules.
Customer support
This data room provides phone support during business hours and 24/7 by email. There is a special client portal solution to help OneHub customers interact better with their own clients. This solution includes simplified file upload, tracking every activity on client portals, and adding collaborative features to improve interaction with a client. A OneHub data room is available in the US, the UK, Germany, Canada, Australia, China, India, and Japan. However, the software is available only in English.
Deployment
Desktop – Mac, Linux, Windows
Mobile – Anrdoid, iPhone, iPad
Additional features
Other unique features, aside from the client portal, are two Q&A modules (basic and advanced), virtual data room customization (custom domain, login page, user invitation letter, agreements for accessing VDR, workflows, and document watermarks), and thorough audit trails for all activities.
Google Docs integration allows users to access files within the VDR simultaneously.
OneHub operates as a cloud, subscription-based tool. It can be deployed on Mac, Windows, Linux, and Chromebook operating systems, as well as on mobile devices (Android, iPhone, iPad). There is also a company branding feature available on the platform. It makes the company's own client portal look more professional to customers' eyes.
Pricing plans
The provider offers four pricing plans to securely share files online. Monthly or annual billing is available.
The standard plan includes 3 paid users, 200 total users, and 1 TB capacity for storing files. Enterprise-grade security and custom branding are also included.

The advanced plan includes 5 paid users, 1,000 total users, and unlimited storage space. This plan provides many file-sharing features for any type of business.

The data room edition includes 5 paid users, 1,000 total users, unlimited cloud storage, numerous other features, and security measures to share critical business files.

The unlimited edition allows an unlimited number of users, workspaces, and storage with white label and custom domain. This plan contains all of the provider's features and tools.
Additionally, OneHub also offers a 14-day trial.
Features Checklist
Secure File Viewer
Watermarking
Encryption
Access Controls/Permissions
Session Timeout
Multi-Factor Authentication
Two-Factor Authentication
Optical Character Recognition
Drag & Drop
Bulk Uploading
Full Text Search
Mobile Access
Offline Access
Activity Tracking
Activity/News Feed
FAQ
OneHub is a cloud storage platform that makes it easy to securely store, share, and collaborate on any kind of file. It can be used to store files such as photos, documents, spreadsheets, presentations, and more.
OneHub takes security seriously and has implemented a number of features to ensure that your data is safe. All files stored in OneHub are encrypted with 256-bit AES encryption. Additionally, OneHub uses two-factor authentication to prevent unauthorized entry.
Yes, OneHub does have an app. It's available for both iOS and Android devices, so you can access your files on the go and stay organized wherever you are.