Due diligence is the process required in order to check all important facts and financial information, as well as all the data mentioned throughout the M&A deal or investment process. Prior to a transaction closing, due diligence is conducted to ensure that the buyer knows exactly what they're buying.
Due diligence aims to equip the buyer with all the information they need to make the right decision. If the due diligence team finds any issues, they will have to decide whether to abandon the deal or modify it. But if everything looks okay, the buyer and seller can proceed with the transaction.
In M&A transactions, due diligence allows the buyer to check and verify relevant information about the company they wish to acquire. To help with this task, companies need a proper virtual data room, and in this article, we will cover everything you need to know about virtual data rooms for due diligence.
Check the best data rooms for due diligence
?>
What is a due diligence data room?
A due diligence data room is a secure cloud storage space where many parties in M&A agreements may share necessary documents and sensitive data. It can assist in the storage and exchange of key commercial, legal, and financial papers that can be displayed to potential investors for review and analysis before the start of a partnership.
Following the seller's permission and signing of the NDA, investors and potential buyers can simply access due diligence data rooms. In comparison to a standard data room, an innovative and up-to-date choice is flexible, economical, and helpful.
The administrator can grant access to the essential documents to several authorized users, and each user's degree of access is controlled by the administrator. The data in the virtual data room may be uploaded and downloaded by the administrator.
Why use virtual data rooms for due diligence?
That's where virtual data room software comes in. It provides a secure environment for multiple parties to store and distribute required documents and information.
Ensuring high-level data protection, a diligence virtual data room facilitates smooth communications and secure document exchanges between seller-side and buyer-side parties. The right people gain easy access to relevant data and can share reports and progress without worrying about data breaches.
The due diligence process involves multiple people working on a myriad of confidential documents and sensitive data from the start of business transactions to their post-merger integration. Without proper precautions, this phase of the M&A can seriously compromise data security.
A virtual data room cloud solution helps ensure that due diligence gets done thoroughly and quickly. Besides the reasons mentioned above, professionals use virtual data rooms to:
Protect their data and intellectual property
The virtual deal room puts you in control of your data at all times. Through the use of permission-based user roles, you may specifically manage user access and who can view the data you submit. For increased security, you may quickly watermark all papers with a timestamp, name, and e-mail address.
All users must sign a non-disclosure agreement before entering the deal room, so you can rest easy knowing that your confidential information is safe.
Maximize the deal success
The deal room also makes it simple to build an auction-like atmosphere that drives deals, providing you with visibility into data room activities via audit trail reporting and allowing you to have a better picture of who is actually interested in your transaction based on their behaviors on the platform. This is really beneficial for sellers.
Expedite the entire process
Due diligence and deal-making may be time-consuming, but the capabilities of a data room can help speed things up. To begin with, the virtual data room is user-friendly, and even those who are entirely new to using it often require no training or explanation; this saves time for both parties.
Not to add, from start to finish, setting up your virtual deal room takes less than 15 minutes. After that, you'll be ready to begin.
Save the company's valuable resources
A traditional data room may come with a large price tag and hidden costs, while a virtual data room lets you know exactly what you're getting into. You only have to pay one fixed charge, which covers limitless storage and users at your discretion. There are no surprises here.
Criteria to consider when choosing a virtual data room for due diligence
Not all virtual data rooms are created equal. You need to pay close attention to the must-have features for a successful due diligence process.
Security
To prevent data breaches, choose a due diligence data room that provides advanced data security and digital rights management. It must ensure document protection with features like 256-bit encryption, remote shredding, automatic watermarking, restricted viewing mode, secure spreadsheet viewing, detailed access policies, and antivirus protection.
Full access control is a must. It's critical to be able to allocate access based on job title and duties. If not, confidential information can be read by those who have no connection to it. That isn't always the case, and it might have unfavorable outcomes.
The data room should provide a unique permission profile to users that enable access only to specific files and folders. It should also track user activities and provide audit logs.
Security compliance
But how do you make sure the diligence data room providers are as safe as they claim to be? Allow the presence of the international third-party certification program to do the talking. Choose a virtual data room that's ISO27001 certified, SSAE 16 certified, HIPAA certified, and SOC2 compliant. They should also conform to international standards, such as the OWASP and Microsoft Secure Development Lifecycle.
Ease of use
Make it easy for users of varying professional backgrounds and technological know-how to use the data room for due diligence. The virtual data room should provide an intuitive interface that ensures anyone can use it and easily access needed files without requiring intensive training.
The data room must be accessible from all devices. It also shouldn't require plug-ins or fancy software and must be compatible with Windows, macOS, Android, and iOS. Moreover, it must have a responsive user interface that works seamlessly on mobile devices.
Multilingual support
Your due diligence team may involve people of different nationalities. Make sure your virtual data room has the necessary multilingual features to accommodate users from varying ethnic and geographical backgrounds. This is especially crucial for cross-border M&A deals, and thus, a data room for M&A will be essential.
Integrated Q&A and chat
The due diligence process involves complex transactions that may raise many questions. Make the exchange easy by choosing a virtual data room that provides an efficient way to post questions and provide answers. The data room for due diligence should also enable secure chats for seamless communication.
Free demo
One of the best ways to ensure that you're using the best due diligence data room for your needs is to use it. You may want to give the platform a try before committing to it, and a free demo lets you do just that.
When choosing a perfect virtual data room provider, you can make a choice between the top data rooms we have thoroughly selected through various criteria.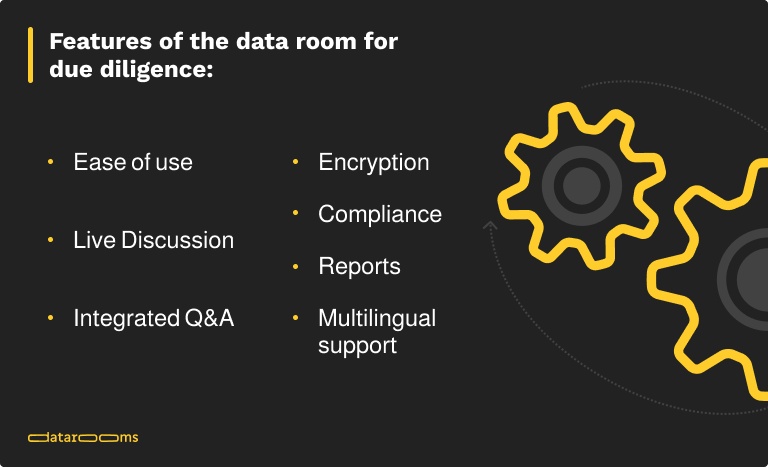 How to use a due diligence data room?
Importing a pre-made request template is the simplest way to get started with a due diligence data room. The data room and folder structure are automatically supplied and structured when you already have a premade template.
Users can then start fulfilling requests by dragging and dropping the needed files onto the platform. They may also delegate work duties, chat with other users, and invite new people into the room.
To get started with a data room, follow these steps:
Find the most suitable due diligence data room provider. Finding the best data room provider for your project's needs among dozens of data room vendors is the most time-consuming aspect of setting up a due diligence data room. The price structures, functionality, and use-case categories of virtual data room providers differ. Although everyone's initial reaction is to make a selection based on pricing, it should really be the last aspect to consider. Instead, concentrate on the unique value each provider may bring to your company's deal-making strategy.
Choose a suitable plan. The best option is to choose software that charges a set cost for its services. You'll have more flexibility to manage files, engage with other people, and complete all phases of your project this way. Choose a plan based on the quantity of data you want to save in the data room and the size of your transaction. The greater the number of individuals and data involved, the higher the cost.
Start a free trial and get the data room due diligence checklist. Request a due diligence data room checklist from your provider so that you may gather all of the relevant information ahead of time and create a logical data room layout. You will add, remove, and change the files within the data room as the deal progresses. However, it's usually a good idea to start with a pre-designed document flow.
Make sure the automatic folder structure is correct and easy to understand. Make an outline for your due diligence data room using the due diligence checklist. Then, depending on the specific nature of your company's style, make the required alterations.
Begin by uploading documents. Transfer your data to data room software once all folders and subfolders are ready. Pay close attention to the name of documents and the sequence in which they appear in each folder.
Add users, and assign task roles, due dates, and priority. Set up advanced permissions for each deal party to control access, and send out invites for multiple users to the due diligence virtual data room. Use a user impersonation feature to ensure that everyone has access to the information they need and to double-check the security of sensitive documents.
Selection Help for Due Diligence
0

% completed
TOP provider according to your answers
Benefits of using virtual data rooms for due diligence instead of physical data rooms
Many companies that are using due diligence data room notice improvement in company productivity resulting in better deal outcomes. A reliable virtual data room offers the following benefits:
Data security
Data room software must meet strict security and compliance standards, including SOC 1, SOC 2 Type II, HIPAA/ITAR, ISO 27001, and others. When choosing a virtual data room for due diligence, it's worth checking all security certifications on the provider's official website.
When comparing a physical data room to the virtual one, you'll notice a significant difference in the level of security. Human and mechanical faults are not allowed in online data rooms. Furthermore, internet solutions allow the organization to regulate who has access to the due diligence virtual data room and its confidential data during the diligence process.
To ensure that the crucial papers you submit are completely protected, virtual data room providers use extremely high-security technologies, including data encryption and activity tracking. It is difficult for other parties to print, copy, or change certain documents without your approval.
Accessibility
The online due diligence data room is a user-friendly choice that makes managing your business easier. You don't have to go to the office to sign some paperwork or see the transaction information.
Virtual data room services are available at any time 24/7. The data room includes excellent file management tools, such as drag-and-drop file upload, which speeds up the uploading process. There are other features that make document management more efficient, including a built-in file reader, in-document search, and indexing.
One of the most important advantages of the virtual data room is its presence on a dependable and secure server, which ensures secure Internet access 24 hours a day, seven days a week.
Simple document management
As technology advances, software solutions will inevitably become more user-friendly. People using the due diligence virtual data room will have varying degrees of computer experience, therefore it's critical that the procedure be as simple as possible for everyone.
Essentially, the easier it is to handle documents, the faster the purchase will move ahead. Cutting time out of the due diligence process aids in the closing of all sorts of deals.
Service price
Some people assume that due diligence data rooms are only available to large organizations. Customers, on the other hand, will pay less for this service than they would for physical storage. As a result, another benefit of adopting the platform is the cost. The organization and the provider debate the needed set of functions and the pricing.
Flexibility
Aside from the mentioned characteristics, the vast majority of virtual data room service providers will also give helpful record activity, and a variety of other features, all of which will add to the ease of data service users.
In the virtual data rooms, you may keep track of all team members' logging on and off activities. You may also observe how long visitors spent viewing a page and which content received the most attention. You may also use tracking features to better organize activities and monitor project progress.
Full document and activity control
For investors, there is a lower risk. Constant access to papers is an unavoidable aspect of effective collaboration. The essential data may be viewed by the investor at any time. As a result, one of the primary goals of data room due diligence is to reduce risk and ensure safe collaboration based on mutual trust and understanding.
Organizations continue to use file-sharing services. They're utilized for one-time transactions as well as on a regular basis. The following material gives a quick overview of data rooms and explains why the new software is dominating the market.
Transparent and effective communication
Digital communication channels have risen to the occasion while live discussions faded into the background. While others argue that virtual deal-making will never be able to replace the power of a handshake, many businesses have adjusted and welcomed the new paradigm.
The more that can be done inside the virtual data room for due diligence, the better. This includes sending and receiving messages as well as making video and audio calls. The communication tools should be as simple and straightforward as the rest of the data room's capabilities.
Summing up
In the current digital world, the use of a physical data room is no longer necessary. During critical business agreements or transactions, human errors and automatically created mistakes are not possible.
Due diligence virtual data rooms offered by leading providers are completely automated and require no human intervention to operate. The data room, which is completely safe and secure, will allow you to store, examine, and exchange essential information with potential investors in the most beneficial and effective way possible.
Visit the main page to compare and choose one of the top data room providers for due diligence deals.