Datasite
5.0/5
4.7/5
4.7/5
About Datasite
Datasite provides everything needed for dealmaking in one place. It assists in preparing for the transaction, conducting due diligence, and performing a post-merger integration. Thanks to their Sandbox feature, AI-powered tools, redaction, Q&A workflows, and the View As feature, Datasite assists dealmakers in accelerating the deals' completion and effectiveness.
Datasite LLC — formerly called Merrill Corporation — is a software provider founded in 1999 as a subsidiary of Datasite Global Corporation, and headquartered in Minneapolis, United States.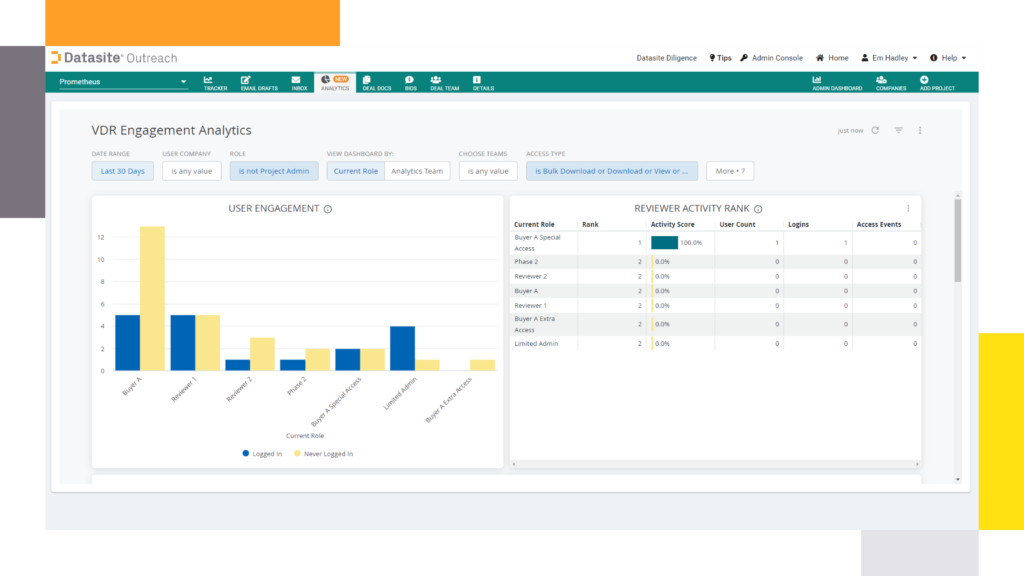 Document security features
Datasite Diligence protects the content stored in its data rooms with a vast array of industry-leading security measures and features. Among those are the features listed below.
Data security training for all employees. This ensures the people working for Datasite are constantly aware of security requirements, and always comply with them to the full.
Annual testing of security response. This reduces the likelihood of security breaches that might happen because of new or overlooked loopholes in Datasite security.
Physical security measures. Personnel who are physically present at Datasite facilities can only access them with a key card, and external suppliers entering the premises must be registered in a database and accompanied at all times by a member of the Datasite staff.
Customizable watermarking. When using Datasite virtual data room, administrators can include customizable watermarks in shared documents, so that every user will see his own personal information watermarked into the documents they access. This strongly discourages the users from sharing sensitive data without authorization.
Granular user permissions. When administrators decide who can view, edit, download and print documents from the virtual data room, they can decide that down to the level of each individual user.
AI redaction. This feature makes it easy to erase confidential information even from documents that have thousands of pages. The admin only has to specify which kinds of data they want erased, and the AI tool will automatically look for and find all the places that information appears in the document, then delete it.
View as. When an admin is attributing permissions to an individual data room user he can impersonate that user so as to view the data room exactly as the user would. This makes it easy for the admin to know exactly what each user can see and do in the data room.
Two-factor authentication and multi-factor authentication. Administrators and users can add an extra level of security to data room access.
Periodic, automatic password resets. This measure increases data room access security by eliminating the possibility that an old password be used to hack into a user's account.
Single Sign-On. Instead of having to sign on separately to each software solution in the Datasite suite users only need to sign in once into Datasite, and can access all solutions from there. This reduces the number of vulnerable places a hacker would try to attack — Datasite protects that one entry and all is well.
Data encryption in transit and at rest. In the event of a data breach that would allow unauthorized people to get their hands on confidential data, this feature ensures the data remains protected. It doesn't matter if the data was stolen when stored or during transmission — documents stored in Datasite Diligence are encrypted at all times, so data thieves will not be able to access the information in them.
Vulnerability assessment by a third party. Independent professionals periodically test Datasite's defenses, so that any weak points can be discovered and repaired before hackers have the opportunity to exploit them.
Collaboration and document management features
When they want to upload multiple files onto the data room, admins and users can either email them in or just use the drag and drop functionality to transfer the files from their computer folders directly onto the data room. Apart from this, Datasite Diligence collaboration features are similar to those found in other virtual data rooms.
Customer support
This data room provider offers its customers several support options. Phone support landlines are available for the United States, Canada, Latin America, EMEA, and APAC countries.
Datasite clients can also use the provider's portal to contact live 24/7/365 chat support, as well as to see demo videos, register for live training classes, and access customer forums.
Alternatively, clients and prospects can contact Datasite by email. Support for users of the Datasite data room is provided in 20 languages.
Additional features
The Datasite data room includes several AI-based tools which radically reduce the time needed to create a data room index, rename and organize documents, or redact information from them.
Another feature is the possibility of creating Q&A rooms, where users can ask questions and get answers from expert team members all in one place.
Pricing plans
Like most virtual data room providers, Datasite does not provide any information on Datasite Diligence prices or pricing plans on their website.
Compare TOP-3 leaders
Features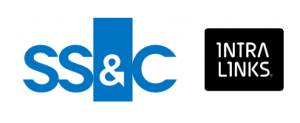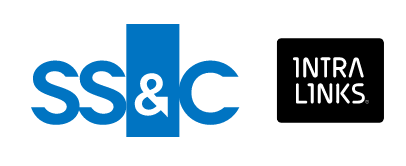 User feedback
4.7
3,8
3,5
Ease of setup
4.7
3.6
3.0
Value for money
4.6
3.6
1.0
Customer care
4.8
4.3
4.0
Pros/cons
24/7 chat support
30-second response time
8 levels of access
25+ file formats
15 languages support
Search with OCR
Advanced Q&A module
24/7 live support
4 levels of access
AI-redaction tool
Multi-format support
8 languages support
Advanced Q&A
24/7 live support
Different levels of access
Multi-format support
Advanced Q&A
No project managers
No multilingual interface
No auto-indexing
Features Checklist
128-Bit SSL Encryption
256-Bit SSL Encryption
Data Backup
Document Expiry
Dynamic Watermarks
ISO 27001 Certified
SSAE 16 Certified
Virus Scanning
Permission Groups
Set User Permissions
Two-Factor Authentications
Branded Website
Bulk Uploads
Drag and Drop Files
Full Text Search
Q&A Section
Scroll-Through Viewer
iPad Application
Mobile Device Interface
Multi-Language Support
Audit Logs
Automatic Audit Reports
Document Version Control
Product Reviews
FAQ
Datasite is a top provider of software solutions empowering a full lifecycle of financial transactions, from M&A and due diligence to restructuring, administration, licensing, capital raising, and more. Datasite's data room is trusted among investment bankers, law firms, corporate developers, and many other dealmakers worldwide.
Datasite is a virtual data room (VDR) that provides secure, organized, and efficient management of confidential information for collaboration between parties. It is used for a variety of purposes, such as mergers and acquisitions (M&A) transactions, due diligence processes, financial reporting, and investor relations.
Datasite is an industry-leading provider of secure data rooms and virtual collaboration solutions. They are dedicated to helping businesses large and small achieve their goals by providing secure, efficient and easy-to-use solutions.