EthosData
-/5
4.4/5
4.4/5
About EthosData
EthosData is a virtual data room provider founded in 2007 and headquartered in the United Kingdom. EthosData specializes in offering a quick data room service to law firms, advisory companies, and customers from the finance industry, enabling them to securely share confidential information with multiple parties.
The EthosData VDR is a web-based platform, so users don't need to download or install any software. Instead, they can access EthosData through a web browser — both from desktop computers running on Mac or Windows, and iOS and Android mobile devices.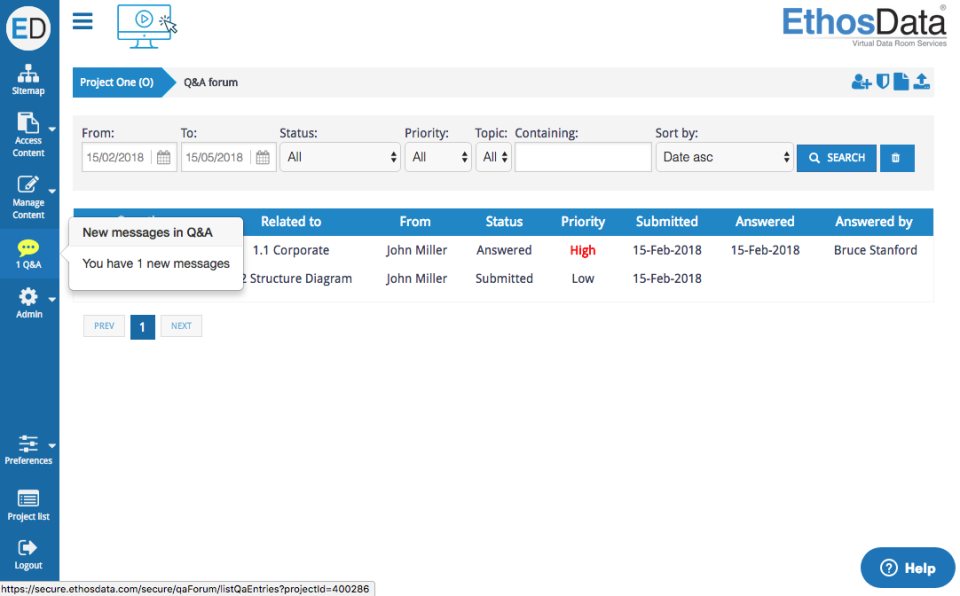 Document security features
EthosData relies on several security features to protect the data stored in its virtual data rooms. The user permissions system ensures that only authorized people can view, edit, copy, print, or download documents. Some customers report the access and permissions system is difficult to use and could be more intuitive. On the other hand, EthosData provides the services of a data room manager who can add users and set up permissions for the client.
Other EthosData security features are remote shredding and activity tracking. Remote shredding allows an administrator to revoke a user's access to a document even after the user has downloaded the document to their device. This way, if a person is no longer taking part in a deal and should not be able to access the deal's confidential information, the admin can ensure they are not able to do so.
Activity tracking allows admins to find out exactly how each user has interacted with each document in the VDR. This not only increases the admin's control over private data but also helps the admin assess which potential buyers or partners are particularly interested in a deal.
EthosData is certified according to international third-party security standards. EthosData security certifications include ISO 27001, SSAE 16, and ISAE 3402.
Collaboration and document management features
EthosData offers its users basic features like the bulk upload of documents, a search tool, and real-time email notifications of data room activity.
Customer support
To customers of its Basic plan, this VDR provider offers email and online chat support during business hours. The Basic plan includes 10 hours of support and help. If the customer needs more hours of support, they have to pay an extra fee.
Customers of the Professional and Enterprise EthosData plans get unlimited hours of email, live chat, and telephone support 24/7. These plans also include the help of dedicated, experienced teams of data room specialists.
Deployment
Mobile – Android, iPhone, iPad
Additional features
Other features of the EthosData VDR are:
Q&A rooms. With this tool, an admin can share users' questions and answer them publicly within the VDR. This saves the admin time, since other users can consult the Q&A room, and the admin doesn't need to answer the same question more than once.

Data room customization and login page customization. These features — available only to Professional and Enterprise clients — allow admins to brand the data rooms and login page with their company's logo and colors.

Various languages. The EthosData platform is available in 11 languages, which makes it much easier for companies dealing with potential clients and partners abroad to create a good user experience for everyone.
Pricing plans
EthosData offers three pricing plans for its virtual data room, each one with a different pricing system.
Basic. With this plan, clients pay a monthly fee. The minimum use is six months. The Basic plan includes one data room, two admin permissions, and 10 third-party user permissions, 500MB of data storage, live chat, and email support during business hours and 10 hours of free support and help.

Professional. This is a pay-as-you-go plan. There's no minimum use period. The Professional plan includes one data room, unlimited admin and user permissions, customizable data storage volume, phone support, 24/7 support, unlimited hours of support, Q&A rooms, data room branding options, a data room coordinator, and 3 DVD or pen drive storage.

Enterprise. With this plan, the client pays an annual flat fee. The Enterprise plan includes unlimited data rooms and all that's included in the Professional plan, plus unlimited DVD or pen drive storage, and the possibility to customize the login page.
Features Checklist
Document Access Expiry
256-Bit SSL/TLS Encryption
Customizable Watermarks
Two-Factor Authentications
Granular User Permissions
Permission Groups
Search by Name
Filtering by Parameters
Cloud (Web-Based)
Multiple Datacenter Locations
Real-Time Audit Trail
Tracking of All User Activity
Exporting Reports to Excel
Product Reviews
FAQ
The cost of Ethosdata can vary depending on the setup you're looking for. They offer a range of packages that are tailored to your needs, from simple home setup to a full corporate solution. All of their packages come with unlimited cloud storage and secure encryption.