Dropbox
4.4/5
4.5/5
4.5/5
About Dropbox
Dropbox is a file-sharing platform based in San Francisco, California. Founded in 2007, the company has been a pioneer in the cloud computing sector and is now one of the most used hosting systems for data backup, synchronization across multiple devices, and collaboration with other users.
With a strong global presence which includes offices in Seattle, Austin, and Dublin, Dropbox has been a favorite data room provider for the education, media, and technology sectors.
Since 2012, the company has sought to further develop the array of provided services, engaging in several high-profile acquisitions such as the virtual data room DocSend and the e-signature platform HelloSign.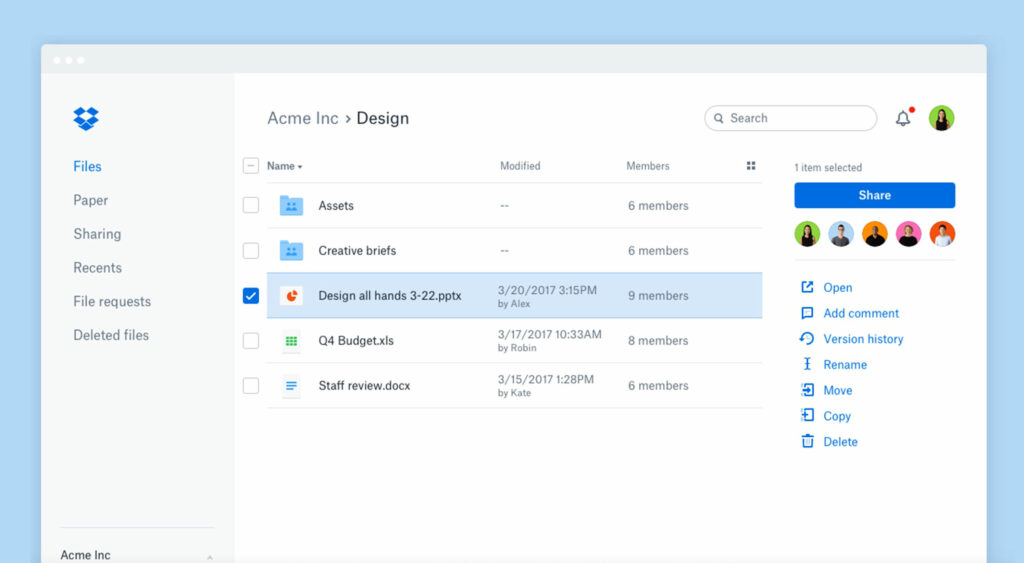 Document security features
Dropbox is very mindful of the security aspect of file hosting, deploying a set of security measures that include personal account protection, data protection, and activity tracking.
While the provider lacks more advanced features such as remote file shredding, it offers some of the essential tools for keeping control over your data. These include:
Password protection. Create powerful passwords and store them in the secure Dropbox vault.
Automatic cloud backups. Your data is automatically backed up and synced in the cloud from across all devices.
Two-step verification. Add a key security layer to your account with a two-factor authentication system, including verification through SMS or an authenticator app.
Dynamic watermarking. Protect sensitive information with personalized watermarks which show viewers their own information splattered across the pages.
Encryption. Prevent your content from being targeted with military-grade 256-bit AES and SSL/TLS encryption, including client-side encryption.
Advanced permissions. Control how users interact with your files by limiting or expanding access (viewing, editing, commenting, downloading, and so on.)
These and other features come together to make Dropbox an inviolate environment where you can share your sensitive data devoid of any security concerns.
However, Dropbox can only protect your document during the transfer process. Once a document has been shared, the security ends. Advanced VDRs, on the other hand, secure your documents at all times, allowing you to remotely shred sensitive content even after it's been downloaded.
Collaboration and document management features
Because it was designed essentially as a file hosting system and only afterward developed into a full-fledged data room, Dropbox is still catching up on the collaboration and document management aspects. A key difference is that nowadays the best VDRs offer AI features such as optical character recognition for searchers, auto-indexing, and even business insights based on user access patterns.
While Dropbox doesn't have that, it does offer some useful VDR functionalities, such as:
Activity tracking: Keep track of users' engagement with specific files, get notified when new files are viewed, and easily access an overview of user engagement across your data room.
In-platform e-signatures: Dropbox's own HelloSign technology provides users with multiple templates for collecting signatures securely and without leaving the platform space.
Bulk upload/download: Upload as many files as you like, with no concern to size limitations. Perform quick drag-and-drop actions for quick uploads and transfers.
Secure link sharing: Share files or folders through an appropriately secure, easily-cancellable link.
Send out invites: Bring new users to your data room with custom email invites.
Offline access: Switch offline mode to keep working on your files even with reduced internet access. Once you're back online, changes will be synced to your data room.
Integrations: Dropbox integrates with Adobe, Microsoft Office, Google products, Zoom, Slack, and many other essential components of your technology stack.
Use across any device: Windows or Mac, Android or iOS — the Dropbox app is compatible with any operating system, as well as being accessible through your browser.
Worth noting, that virtual data rooms are separate projects created specifically for particular, time-sensitive transactions. Where VDRs provide this security on a project-to-project basis, Dropbox keeps everything in one main folder, giving the user a sea of all their data in one place.
By using proper virtual data rooms, companies can create separate rooms for separate deals, for instance. Dropbox does not allow that.
Customer support
Dropbox provides users with dedicated 24/7 chat assistance, which you can access directly from your app or from the official Dropbox website. You can also contact the provider by chat, email, or direct call. For potential customers, a demo request option is also available.
In addition to direct representative support, users can avail themselves of a vast array of support features such as documentation, blog posts, free live training sessions, and paid platform courses. Interacting with the Dropbox community is another possibility for solving issues or making requests and suggestions.
Compared to other data rooms, Dropbox does not offer custom user onboarding support, one-on-one training, and 24/7 phone support.
Deployment
Desktop – Mac, Windows, Linux
Mobile – Android, iPhone, iPad
Additional features
Like many virtual data rooms, Dropbox allows for integrations with its acquired data room provider, DocSend. This gives users an extra set of features, including templates for NDAs, due diligence, fundraising, board meeting minutes, investor reports, and many other use cases.
Pricing plans
The Dropbox subscriptions come in two groups: for personal use and for business. Both are available on either a monthly or annual pricing plan.
Personal:
Plus: For individual file backup and sharing
Family: For families, includes more storage and up to 6 users
Business:
Professional: For individuals, with extra features such as signatures
Standard: For smaller teams, with limits on file transfers and signatures
Advanced: For large teams, access to all features, limitless space usage, and transfers
All subscriptions are also available for a 30-day free trial upon request.
Dropbox may be a pretty good data room solution with basic features to offer to users and companies of all kinds. However, it lacks many of the more advanced security, collaboration, and flexibility aspects present in the VDR competition, which can make it a suboptimal choice for corporate users.
Find out how Dropbox compares to other popular VDRs in the market on our main page.
FAQ
Dropbox can be used as a secure personal storage service, with features like encryption of files, multi-level user authentication, and access control. But when it comes to corporate use, Dropbox cannot offer the same level of security a data room provides, and thus it cannot replace it.