CapLinked
3.9/5
4.5/5
4.5/5
About CapLinked Virtual Data Room
A CapLinked virtual data room is a secure document sharing platform offering solutions for document management, due diligence, corporate mergers and acquisitions, and managing complex deals.
The company was founded in 2010 by a PayPal marketing leader and a banking executive. It is headquartered in Los Angeles, California, US, with data offices in Dubai and India and a communications agency in South Africa.
CapLinked VDR caters to companies working in M&A, real estate, those who raise capital, asset sales, financial services industries, and board and investor reporting.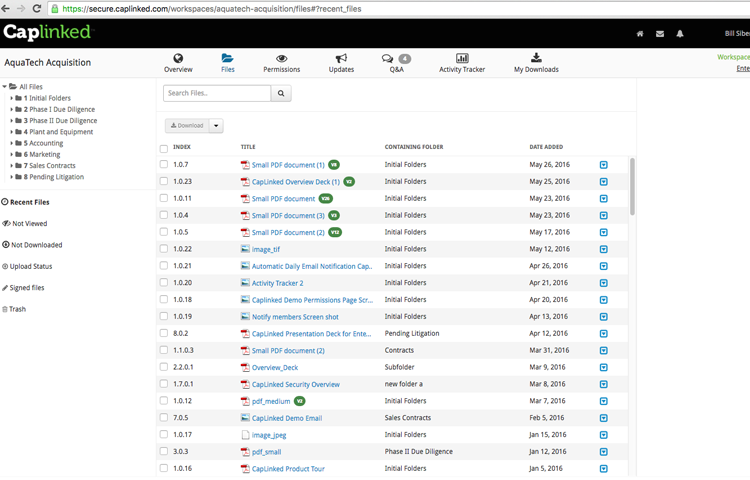 Document security features
As a secure platform, CapLinked pays special attention to document security:
All data on CapLinked is connected securely using HTTPS with no software plug-ins or required updates
Sensitive data at rest are protected by the 256-bit Advanced Encryption Standard
Data encryption is SSL/TLS via endpoints of TLS Protocol
Multi-layer Security Firewalls for CapLinked data
A CapLinked data room has built-in real-time scanning protection from trojans, viruses, malware, etc.
SOC2 Type II certification under SSAE18
Data is hosted and managed by Amazon Web Services via secure data centers. PCI operates according to SAQ-D and is a member of the Cloud Security Alliance. Digital and physical data protection of Amazon Web Services include ISO 27001, SOC2/SSAE 18/ISAE 3402 (Previously SAS70 Type II), PCI SAQ-D, FISMA Moderate, and Sarbanes-Oxley (SOX).
Controlled Access
File Access
No Indexing for search engines and web crawlers
Comprehensive activity tracking
Audit trail
Watermarking
Digital rights management
Certification and compliance with the EU-U.S. Privacy Shield Program, the Federal Information Security Management Act (FISMA)
Collaboration and document management features
CapLinked virtual data rooms offer several solutions to enhance secure collaboration.
A dashboard enables viewing recent activity, monitoring notifications, managing messages and contacts, and access to workspaces. Everything runs within a user-friendly interface and is accessible from any device.
Workspaces are secure platforms to securely share information, manage M&A transactions, raise capital, conduct due diligence, and oversee other complex deals. Furthermore, these processes are manageable and accessible from desktop or mobile devices.
CapLinked VDR also provides integrated instant messaging, Q&A assignments (or Subject Matter Experts), FAQ notifications, and data room users' activity feed.
CapLinked data rooms offer integration with Dropbox, Box, OneDrive, Google Drive, and Salesforce.
Document management features include uploading options, such as quick bulk upload and Safelink, the powerful desktop uploader by CapLinked. Also, there is a Microsoft Office document management solution to edit directly from your Workspace. Another feature is viewing various types of files (PDFs, MS Office, images, and videos) directly from your browser without plugins or downloads. Any confidential document changes can be followed up in Version Control.
Customer support
Customer support is available when setting up, custom-fitting a workspace, training a team, or asking a question. Users can also visit the CapLinked support center for FAQs, tutorials, Q&A, and other knowledge bases.
CapLinked support is available 24/7/365 by chat, phone, and email. A dedicated account representative is always available to help. Assistance is only provided in English.
Judging by the CapLinked reviews, the service provides responsive customer support, although this is not the strongest side of this provider.
Additional features
A special feature of Caplinked virtual data room besides Workspaces, Dashboard, their Q&A module, or data room customization is its API. It is a set of powerful security modules for integrating with existing company applications, improving workflow, and maintaining full control over the data.
Pricing plans
CapLinked has a free 14-day trial data room that can be converted to a paid subscription saving all content and workflow solutions. Features included in the free trial are unlimited access to tools, one workspace, 500 MB of storage, a pre-configured virtual data room, two admin accounts, enterprise-grade file encryption, custom dynamic watermarks, FileProtect digital rights management, and a 1-month promo rate after the free trial expires.
Two regular pricing plans are available:
The Team Plan is a starter virtual data room with document sharing and advanced security features. It includes 5 GB of storage, 1 workspace, 10 administrators, an unlimited number of other users, watermarking, two-factor authentication, real-time virus scanning, document management features, customization, and digital rights management.
The Enterprise plan is a fully customized data room solution for due diligence plus exclusive access to their Concierge Services. The plan includes all Team Plan features plus extra protection for confidential documents, API access integration, full-service setup assistance, flexible unlimited storage, and an unlimited number of users.
CapLinked pricing plans require no long-term commitments.
If you need more details, including free versions, trials, and the starting price, you can request them from the provider. Also, you can learn more about the product's value for money by reading CapLinked reviews from real users on trusted platforms like Capterra or G2.
Features Checklist
256-Bit SSL Encryption
Data Backup
Document Expiry
ISO 27001 Certified
Virus Scanning
HIPAA Compliance
Multi-layer Security Firewalls
Mobile Device Management
Multiple Channel Verification
Permission Groups
Set User Permissions
Bulk Uploads
Drag and Drop Files
In Document Linking
Scroll-Through Viewer
Mobile Device Interface
Multi-Language Support
No Plugins Required
Product Reviews
FAQ
Caplinked is a secure data-sharing platform used by organizations of all sizes. With it, companies can easily collaborate with their business partners, customers, suppliers, and other stakeholders, while keeping their contracts, financial documents, M&A documents, investor materials, and other sensitive information safe.