SecureDocs
4.8/5
4.9/5
4.9/5
About SecureDocs
SecureDocs is a cloud based virtual data room provider offering a secure platform for confidential document storage and expedited deal management. It is also a secure platform for audits, business valuations, and assessments. Furthermore, it helps companies collaborate and share sensitive corporate documents with third parties.
SecureDocs's mission is to provide secure, adaptative, and affordable software solutions for businesses of any size and type to get any deal ready faster.
The company was founded in California in 2012 and has processed billions of dollars worth of transactions ever since. In 2022, SecureDocs was acquired by Onit, a legal and lifecycle management company.
Headquartered in Santa Barbara, SecureDocs data room provides its software to 122 countries. Companies using the software work in various industries, including fundraising, M&A, IPOs, strategic partnerships, bankruptcy, and corporate document storage.
In this brief SecureDocs review, you can find out what features the provider offers, how technical support works, and what the provider's pricing is. You can also check out the ratings & reviews for SecureDocs data room on trusted software review websites to compare a provider with others and make an informed decision.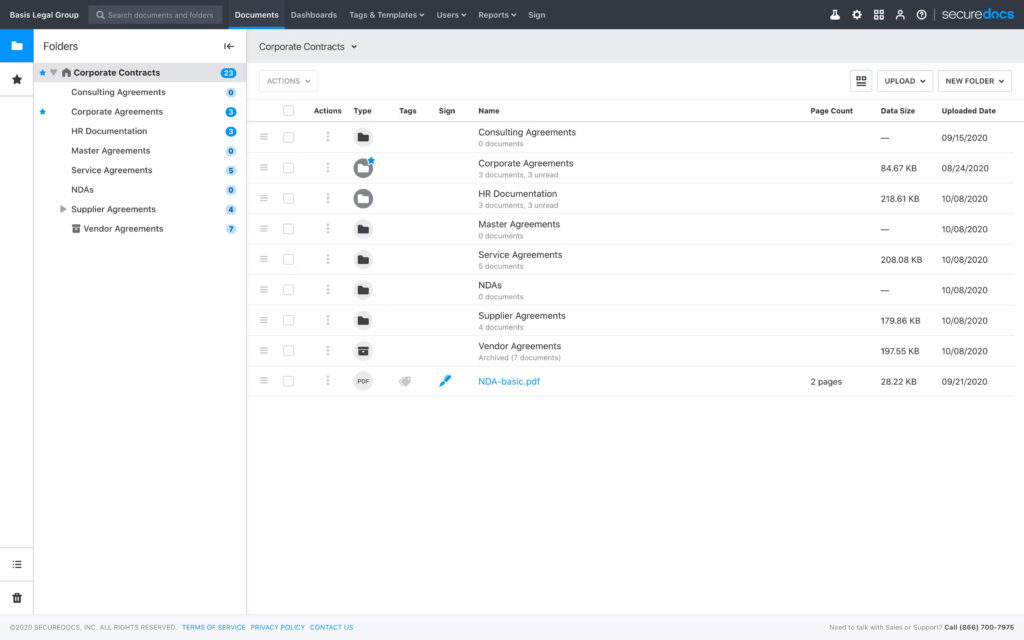 Document security features
Document security is a central point of the SecureDocs software. A SecureDocs virtual data room is SOC 2-compliant.
SecureDocs collaborates with Amazon Web Services data centers, which protect all sensitive corporate documents with firewalls, segmentation, intrusion detection, pin codes, electronic key cards, and biometric hand scans. Amazon data centers are located in the US, Germany, and Ireland. They are ISO 27001 and SOC certified.
Transit and at-rest data are transferred using 256-bit encryption, connections use a TLS 256-bit encryption and 2048-bit authenticated key. Permissions are granular depending on the user role. Additionally, an audit trail benefits user activity reporting.
Other security tools in the SecureDocs virtual data room are:
Multi-factor authentication
Easy password management with single-sign-on through the SAML 2.0 standard
One-click privacy blind to hide active screen with one click
Document watermarking
Customizable click-through NDA
Document migration and setup
Restrict user access
Electronic signature
Collaboration and document management features
SecureDocs software is ready to go as soon as the setup is complete. Its intuitive interface and the less than 10-minute setup time facilitate the deal process. Other features that enhance collaboration are customizable dashboards, e-signature, FAQs, and direct answers.
The customizable dashboards and real-time user statistics give admins insight into third parties' interests.
SecureDocs e-signature and template tools help create, send, and sign NDAs, and confidential memorandums quickly.
Users can even publish FAQs to the data room and answer questions from within the virtual data room as well.
Document management features of a SecureDocs data room include:
Logo branding and a unique URL
New document notifications
Document attachment
One-click archiving
Unlimited data storage
Drag-and-drop upload
Ongoing upgrades
Document watermarking
Customer support
Tech assistance is provided by a leading support team 24/7 online (guides, FAQs, chat, emails) and by phone. SecureDocs also guarantees 99.9% data room uptime. However, support is only available in English.
Users appreciate the responsiveness and competence of the technical support team. Thus, the average SecureDocs review score for the helpdesk is 4.
SecureDocs software is a cloud-based, SaaS web tool available for iOS and Android desktops — mobile versions have yet to be developed.
Additional features
The main characteristic features of the SecureDocs data room are ease of use, quick setup, versatility for various purposes, and immediate access.
As a comprehensive platform for several purposes, a SecureDocs virtual data room suits virtually any business type — from freelance to medium- or large-sized enterprises. The company provides secure data sharing and collaboration with external companies for every project.
Intuitive implementation, drag-and-drop, and a friendly interface make it user-friendly and easy to use.
Pricing plans
A SecureDocs data room offers affordable, flat-fee pricing for its customers. A free 14-day trial of a full-featured data room is available.
There are three basic pricing plans: 3-month, 12-month, and volume packages.
All of them include unlimited users and unlimited document storage, unlimited customer support and training, customizable dashboards, document branding, watermarking, document attachments, advanced search, new document notifications, electronic signature, bulk user invite, audit log report, AWS data center, customizable NDA, and Fujitsu ScanSnap Integration.
The 3-month plan is good for short-term divestments, M&A, or bankruptcy projects. It's ideal for executing, sharing, tracking, and storing documentation, and is billed quarterly.

The 12-month plan better suits longer-term projects or a corporate repository for deal-making, and is billed annually. This plan includes an additional feature — SAML 2.0 / Single Sign-On (SSO).

Volume packages are good for managing multiple deals simultaneously and huge volumes of data; contact a company sales representative for a customized quote. SAML 2.0 / Single Sign-On (SSO) is also included.
Detailed pricing is available by request; the company's website provides more information.
Finally, although the provider positions itself as one of the most affordable, some SecureDocs virtual data room reviews say the product is overpriced.
Features Checklist
Access Controls/Permissions
Digital Watermarking
Role-Based Permissions
Remote Access/Control
Secure Login
Single Sign On
Multi-Factor Authentication
Bulk Uploading
File Upload by Email
Drag & Drop
Full Text Search
Third Party Integrations
Mobile Access
Audit Trail
Activity Tracking
FAQ
SecureDocs has three flat-fee pricing plans — Quarterly, Annual, and Volume packages. The Quarterly plan costs $400 per month and is billed on a quarterly basis. The Annual plan costs $250 a month and is billed every year. The Volume package is quote-based, and its cost depends on the project.
Yes, SecureDocs is a safe way to store your documents online. All data stored in the platform is encrypted using state-of-the-art encryption technology, which makes it virtually impossible for anyone to access your data without a restricted level of permission.