BlackBerry Workspaces
3.8/5
4.1/5
-/5
About BlackBerry Workspaces (Watchdox)
BlackBerry Workspaces (formerly Watchdox) is a secure virtual data room founded in 1984 and headquartered in Waterloo, Ontario. Currently, they have 30 offices worldwide in Europe, North America, Latin America, and the Asia Pacific.
The BB Workspace features a user-friendly interface and seamless integration for important deals and sensitive data protection. It can also significantly facilitate team collaboration but is similarly suitable for personal use on all major device platforms.
For guaranteed security, BlackBerry Workspaces has earned every necessary certificate. It specializes in industries such as media and entertainment, healthcare, legal, regulatory compliance, and financial services. However, a BlackBerry Workspaces data room is perfect for anyone looking to protect sensitive information.As for BlackBerry user ratings on top software review platforms, this solution is inferior to such advanced platforms as Huddle, OnBoard, and iDeals. However, many Watchdox reviews are still positive and often mention reliable security and ease of use.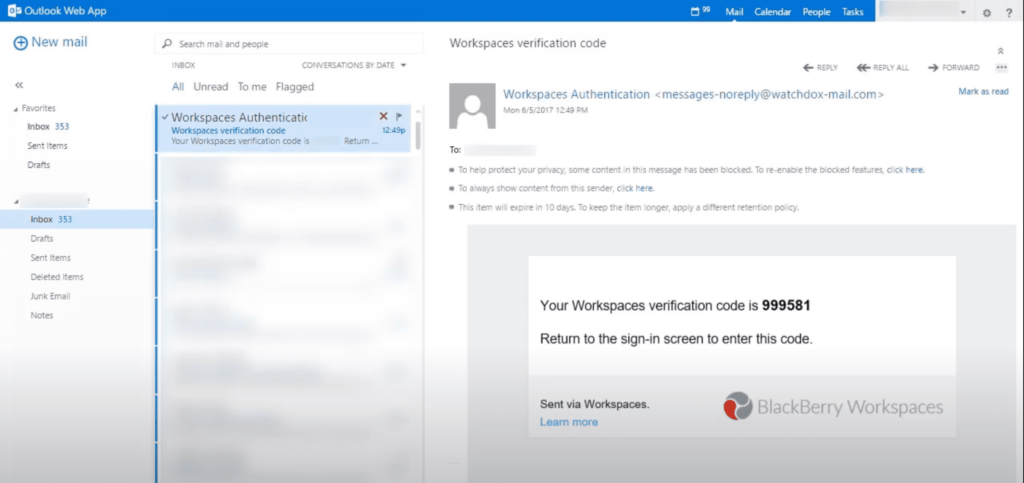 Document security features
BlackBerry Workspaces (formerly Watchdox) is a way to secure file storage, sharing, and synchronization. Irrespective of what it's needed for — to secure collaborative workspaces, enable personal productivity, or streamline business deals — it's a reliable choice when searching for a virtual data room.
With BlackBerry Workspaces, users enjoy unique document-level security. This is possible because the data room uses AES-certified 256-bit encryption to control access. It's one of the key features that help control critical documents.
Moreover, BlackBerry Workspaces provides unified control and access for every data store. With this, users don't need file migration. It can also help track and report file activity for security and privacy purposes.
BlackBerry Workspaces enables users to create a collaborative data room and monitor file permissions and access. Additionally, the "View-only mode" feature allows users to annotate and comment on documents with the highly secure HTML5 browser app.
To sum up, unparalleled platform security is possible thanks to the following efficient solutions:
Existing storage tracking
Audit log of all activity
Unique file-level protection
Extended cross-platform support
With the VDR, users have access to apps for HTML5 browsers, iOS, Android, macOS, and Windows. The software was created to enforce Digital Rights Management (DRM) on Android and iOS.
Collaboration and document management features
BlackBerry offers three unique editions of the BlackBerry Workspaces VDR, enabling users access to their needed tools. These solutions are Send, Collaborate, and Secure Plus.
"Send" edition. It provides users with personal secure collaborative workspaces integrated with Microsoft Outlook and Office Online, allowing you to enjoy your existing apps while using BB. Moreover, the edition includes 20GB of file storage, View-only sharing, and the ability to work with documents.

"Collaborate" edition. This one includes more features. As a result, users enjoy ransomware recovery tools, usage reporting, an advanced admin console, group workspaces with collaboration functions, and unlimited file storage. Furthermore, it supports an active directory and single sign-on.

"Secure Plus". This edition delivers features such as advanced productivity tools, CMS and file systems, advanced user administration, and API/SDK access. This edition is ideal for industries that seek a virtual data room characterized by a full set of business tools and the highest security level.
Customer support
BlackBerry only requires a single point of contact to meet users' support needs. One support contract covers an entire mobile environment, ranging from server to device connectivity.
Customer support is flexible for all service levels. Assistance is available 24/7/365 for BlackBerry, Android, and iOS users. The professional team is always ready to help deal with issues — or with preventing them.
It's also important to note that BlackBerry user ratings are relatively high thanks to the helpful technical support team.
Deployment
Mobile – Android, iPhone, iPad
Additional features
One of the unique features of BlackBerry Workspaces is rapid ransomware recovery tools. Generally, ransomware is malware that can affect a computer user's data. It often requires or claims to demand payment for access restoration.
A ransomware attack can worsen with enterprise file synchronization and sharing (EFSS). It can sync and share affected files with other parties automatically.
To address this issue, Workspaces gives the system administrator access to effective recovery tools to avoid exposing sensitive information to ransomware attacks.
Pricing plans
BlackBerry Workspaces does not provide details on pricing information on its site. Also, it does not offer a free plan. However, the company provides free trials for potential customers.
Nonetheless, BlackBerry workspaces pricing offers three models —Send, Collaborate, and Secure Plus. Interested parties can contact a sales representative for a customized quote. Additionally, each pricing model is characterized by several unique features that offer extra value over and beyond basic functionality.
However, as users note in Blackberry Workspaces reviews, the cost is too high compared to other solutions.
Features Checklist
256-Bit SSL Encryption
Dynamic Watermarks
SSAE 16 Certified
Virus Scanning
Mobile Device Management
Multiple Factor Verification
Permission Groups
User Permissions
Branded Website
Bulk Uploads
Drag and Drop Files
Microsoft Office Integration
Q&A Section
iPad Application
Mobile Device Interface
Product Reviews
FAQ
Blackberry Workspaces is a secure and reliable way to store, sync and share files. It provides users with the ability to securely access their documents from anywhere, anytime. With an intuitive, easy-to-use interface, you can organize and manage files with greater accuracy, efficiency and control. Blackberry Workspaces also allows for real-time collaboration, making it easy to work together with colleagues and partners.
Blackberry Workspaces is a cloud-based file sync and share service that enables users to securely access and collaborate on documents from any device or location. With Workspaces, users can securely sync files across all their devices and access those files from anywhere.