ShareVault
4.6/5
4.4/5
4.4/5
About ShareVault
ShareVault is a long-established virtual data room provider. The company is headquartered in Los Gatos, California, from where it has operated since 2003, offering data room solutions for due diligence, M&A, asset management and sales, fundraising, and board collaboration — among others. Recently, ShareVault also opened development offices in Bangalore, India.
ShareVault is a popular data room choice for a wide range of industries, including energy, healthcare, entertainment, and real estate. However, its main scope of collaboration is with companies in the life sciences and legal sectors. ShareVault's clients include companies of all sizes — from small enterprises and startups to Fortune 500 companies.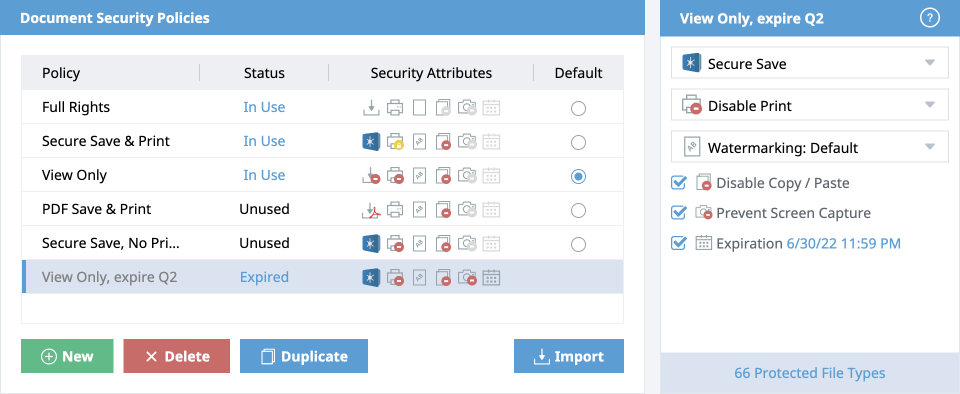 Document security features
Security is a primary concern for companies sharing sensitive documents or looking to close deals in a competitive environment. To ensure their clients' data is kept safe at all times, ShareVault deploys a potent security toolkit, including:
Document analytics. The ShareVault audit trail gives you ample oversight over the goings-on in your data room. That includes user logins (including IP addresses), documents viewed, published, or edited, and time spent viewing each file.

Secure cloud architecture. The ShareVault platform is powered by AWS (Amazon Web Services), working in a virtual private cloud managed by RackSpace. This means the data room is isolated from other accounts in the AWS space, ensuring a further layer of protection.

Encryption at rest. Stored files can be protected either with standard AES 256-bit encryption or, for military-grade security, with clients' own encryption keys (Customer Managed Key, or CMKs).

Encryption in transit. Secure document sharing is a must, and that's just what ShareVault offers, with 256 AES encryption through certified HTTPS and SSL protocols.

Single Sign On. SSO further enhances security practices by giving users access to all of the ShareVault space with a single set of access credentials.

Two-step verification. A sine qua non of virtual data rooms everywhere, multiple-step verification requires users to confirm their identity when logging in from new devices or locations. This can be done through SMS or authenticator apps.

Access level control. Organize your data room structure according to your privacy concerns, giving users more or less access as needed. Share sensitive documents with peace of mind.

Remote shredding. Keep control over your files with third parties — shredding takes only a second.
ShareVault ensures your data is treated according to relevant legislation, and is GDPR, CCPA, and PrivacyShield-compliant. The company's security practices are also certified by some of the best-known seals in the industry, including ISO, SOC, HIPAA, and the DOD.
Collaboration and document management features
Another key feature of a good data room is ease of use — being able to collaborate with other users, upload or download files, invite new people to the platform, and so on. With ShareVault, there are plenty of options to help speed up work and make your team more effective.
Bulk upload or download. Easily send or retrieve files from the virtual data room in bulk, with little waiting time.

Inter-document links. Create secure internal links from one document to another, minimizing the time spent searching for files.

Fast search and filter. If you do have to look up a file, you can benefit from the ShareVault smart keyword search and filter options.
Internal messaging. Take your collaboration to the next level tagging or messaging other users directly within the platform.

Collect signatures. No need to use external apps for that.

Control your files. Even after downloaded, your encrypted files can be remotely erased or blocked.

Secure file viewer: Whether we're talking PDFs, docs, or sheets, the secure viewer helps you get where you need in no time.
Customer support
The recipient of several awards for best customer support, ShareVault spares no effort to help users where and when needed. The company has four direct phone lines available 24/7 in North and South America, Europe and the Middle East, and the Asia-Pacific countries.
Other support alternatives are by email (answered in US business hours) and a live chat with a company representative.
For those starting out, the platform also has plenty to offer in the way of video tutorials, documentation, informative blog posts, and much more.
Deployment
Mobile – Android, iPhone, iPad
Additional features
In the virtual world, information can spread fast — too fast, in the case of your sensitive files.
For sharing confidential documents or other vital business processes, ShareVault deploys a special solution: The Dynamic Native File Protection (or DNFP). DNFP protects your documents even after they've been shared to other users and downloaded from the safe data room space. Users are unable to edit or share these protected files, which can only be edited again from authorized devices.
You are left in full control and can revoke access to these files — or remotely shred them — at a moment's notice.
Pricing plans
ShareVault offers three plans: Express, Pro, and Enterprise. These range from fewer to greater numbers of features, with the most advanced functionalities (such as the DNFP) being available only in the top-tier plan.
ShareVault is considered to offer competitive pricing. You can request a quote on their website and benefit from a 7-day free trial with full access to your tier's features.
Features Checklist
Encryption
HIPAA Compliant
Role-Based Permissions
SSL Security
Secure File Viewer
Watermarking
Access Controls/Permissions
Single Sign On
Drag & Drop
Bulk Uploading
Full Text Search
Mobile Access
Multi-Factor Authentication
Audit Trail
Q&A Management
FAQ
Yes, ShareVault is secure. It utilizes AES-256 encryption to protect your data and files in the cloud, making sure that no unauthorized person can access it. Additionally, ShareVault provides two-factor authentication to further secure user accounts and data.