Despite a general slowdown in global deal activity due to geopolitical tension, market volatility, and inflation, 2022 experienced a number of large and successful M&A deals.
Read this article to explore the top 11 mergers and acquisitions in 2022 so far.
How to learn of upcoming mergers and acquisitions?
The best way for M&A experts and enthusiasts to monitor upcoming mergers and acquisitions 2022 and 2023 is to follow specialized websites. Such platforms provide up-to-date information on recent news and events in the industry and often give official announcements about companies' mergers or acquisitions.
The most respectful and reliable sources include:
Another way to keep abreast of all upcoming acquisitions 2022 and 2023 is to follow famous M&A experts and specialists on social media. They might not only write about upcoming potential mergers and acquisitions 2022 and 2023 but also professionally assess them. However, they will probably only highlight large, notable deals.
Luckily, we already know the largest M&A deals in 2022 so far and are ready to review the top 11. So, keep reading to explore the details of what companies are merging in 2022.
Activision Blizzard and Microsoft — $68.7 billion
Broadcom and VMWare — $61 billion
Adobe and Figma — $20 billion
Microsoft and Nuance — $19.7 billion
Vista Equity Partners and Citrix — $16.5 billion
Oracle and Cerner — $28.3 billion
Prologis and Duke Realty — $26 billion
Orange and Grupo MásMóvil — $19 billion
Elon Musk and Twitter — $44 billion
DSM and Firmenich — $21 billion
AMD and Xilinx — $50 billion
Still can't make a final decision for your business?
Rely on our expert choice – iDeals VDR
Visit Website
11 recent mergers and acquisitions 2022
These are the largest M&A deals of 2022 so far, in descending order.
1. Activision Blizzard and Microsoft — $68.7 billion
Date: Jan 18, 2022
Activision Blizzard is a world-famous video game holding company that produced such game hits as Candy Crush, Call of Duty, Doom, Warcraft, and Overwatch. With such an acquisition, Microsoft became the world's third-biggest company by revenue slot, behind only Sony and Tencent.
With this deal, Microsoft likely is betting on the cloud-based future of gaming. Phil Spencer, the CEO of Microsoft Gaming, said in the company's blog post: "Together we will build a future where people can play the games they want virtually anywhere they want."
Activision Blizzard was acquired for $95 per share in an all-cash transaction valued at $68.7 billion. This deal is a leader in the list of the biggest mergers and acquisitions 2022.
2. Broadcom and VMWare — $61 billion
Date: May 26, 2022
Broadcom is a semiconductor manufacturer and infrastructure software company. Whereas VMWare is a cloud computing and visualization technology company.
In the first half of 2022, Broadcom announced the acquisition of VMWare for $61 billion in a cash and stock deal. Additionally, Broadcom assumed $8 billion of VMWare's net debt.
However, interestingly, an announcement of the deal resulted in Broadcom stock falling by 20%. Experts believe this is because the two firms have entirely different cultures. In the tech sector, Broadcom has a reputation as a company that acquires firms before big staff layoffs. And indeed, half of the VMWare employees left after hints about their remote work coming to an end.
The result of this deal, which is still undergoing regulatory approval, will be the complete rebranding of VMWare.
3. AMD and Xilinx — $50 billion
Date: Feb 14, 2022
AMD's acquisition of Xilinx is one of the largest deals announced and closed in 2022 and probably the largest chip deal in history.
AMD and Xiling united forces to create a leader in the computing industry by conducting this all-stock deal. A few months after its completion, AMD's stock price was 55% lower than it was at the time of the deal announcement. Experts are still anticipating the final results of this acquisition.
4. Elon Musk and Twitter — $44 billion
Date: Apr 25, 2022
Elon Musk's acquisition of Twitter is definitely one of the most discussed recent acquisitions 2022.
First, Twitter rejected Musk's offer to buy the company. However, just about two weeks later, Twitter announced that it had entered the acquisition agreement. Then, a few more weeks later, Musk tweeted about putting his bit on hold because of "false and misleading" statements during negotiations regarding the platform's number of fake accounts.
Regardless, the deal closed in October with a maximum value of $44 billion. Right after the acquisition, Musk laid off a large percentage of the Twitter workforce, including CEO Parag Agrawal. Now, M&A experts are anticipating the results of this deal and innovations.
5. Oracle and Cerner — $28.3 billion
Date: Jun 7, 2022
Oracle announced the Cerner acquisition back in December 2021 and completed the deal in the summer of 2022.
The deal is expected to bring new experiences to the healthcare market. One of the goals for this acquisition was Oracle's intent to create cloud software systems to allow doctors to spend more time with patients and less on administrative issues.
Oracle's acquisition of Cerner was estimated at $28.3 billion and became the biggest deal the company has ever closed.
6. Prologis and Duke Realty — $26 billion
Date: Oct 3, 2022
Duke Realty and Prologis are two leading real estate and logistics companies in their respective sector. The merger of these two firms is valued at $26 billion, including Duke Realty's debt, and is considered one of the biggest company mergers in 2022.
Upon closing the merger, Prologis will become the largest real estate and logistics company in the world. The newly merged company will have a notable portfolio of logistics property, including 1,228 acres of land owned, more than $1.5 billion of investments, numerous properties across the US, and 11 million square feet of development in progress.
7. DSM and Firmenich — $21 billion
Date: May 31, 2022
In the second half of 2021, DSM announced it was changing its direction from petrochemicals to sustainable health and food products. As a part of this process, the company merged with the well-known fragrance and flavor business corporation Firmenich.
As a united new company, the merged firm will combine biotechnology and nutrition from DSM and flavors, fragrance, and molecular technology from Firmenich. This stock mergers process is expected to produce a huge player in a high-growth sector and the food and beverage industry.
8. Adobe and Figma — $20 billion
Date: Sep 15, 2022
Adobe's acquisition of Figma became quite an unexpected event for many in the digital world.
Adobe is a major player in the computer software sector, and Figma is a collaborative web application for interface design.
The purpose of the deal was "to change the world through digital experiences." Adobe stated that the new firm would reimagine the future of digital creativity and productivity. Indeed, the deal seemed to be complementary for both companies. However, just a month after the acquisition, Adobe's stock price has seen a 33% drop.
The deal between Adobe and Figma closed for $20 billion in cash and stock.
9. Microsoft and Nuance — $19.7 billion
Date: Mar 4, 2022
Microsoft announced the acquisition of Nuance back in 2021. Since then, the deal underwent numerous regulatory approvals and was eventually finalized in March 2022.
Nuance is a software company specializing in speech recognition and artificial intelligence technology and is also a big player in the health industry. Experts believe that healthcare direction was a primary interest for Microsoft. The deal closed for $19.7 billion and is expected to benefit both Nuance and Microsoft, as they have been working together since 2019 on collaborative projects.
10. Orange and Grupo MásMóvil — $19 billion
Date: Jul 23, 2022
Orange and Grupo MásMóvil are two giants in the telecommunications sector. The merger between these two companies is forecasted to create a new leader in the Spanish cellular phone market. Experts also believe that this deal might spark similar partnerships in British, Italian, and Portuguese markets.
In a new company, each of the firms will have equal governance rights. Expectedly, the deal closes in the second half of 2023.
11. Vista Equity Partners and Citrix — $16.5 billion
Date: Jan 31, 2022
Citrix Systems, Inc. announced its acquisition by affiliates of Vista Equity Partners and Evergreen Coast Capital Corp. back in January. This mergers acquisitions deal successfully closed in September.
Vista Equity Partners is a large American investment firm focused on software and technology investments. Therefore, this acquisition seemed logical, so experts were not surprised. Citrix was finally acquired for $16.5 billion, including the assumption of the net debt.
Upcoming acquisitions in 2023
This year faced many obstacles that influenced the global deal volume: the ongoing war in Ukraine, inflation, looming recession concerns, and market volatility.
Compared to the previous year, the M&A deal volume has significantly dropped in 2022, especially in Q3. Only 9,930 deals with a total value of $443.7 billion were conducted during Q3 2022.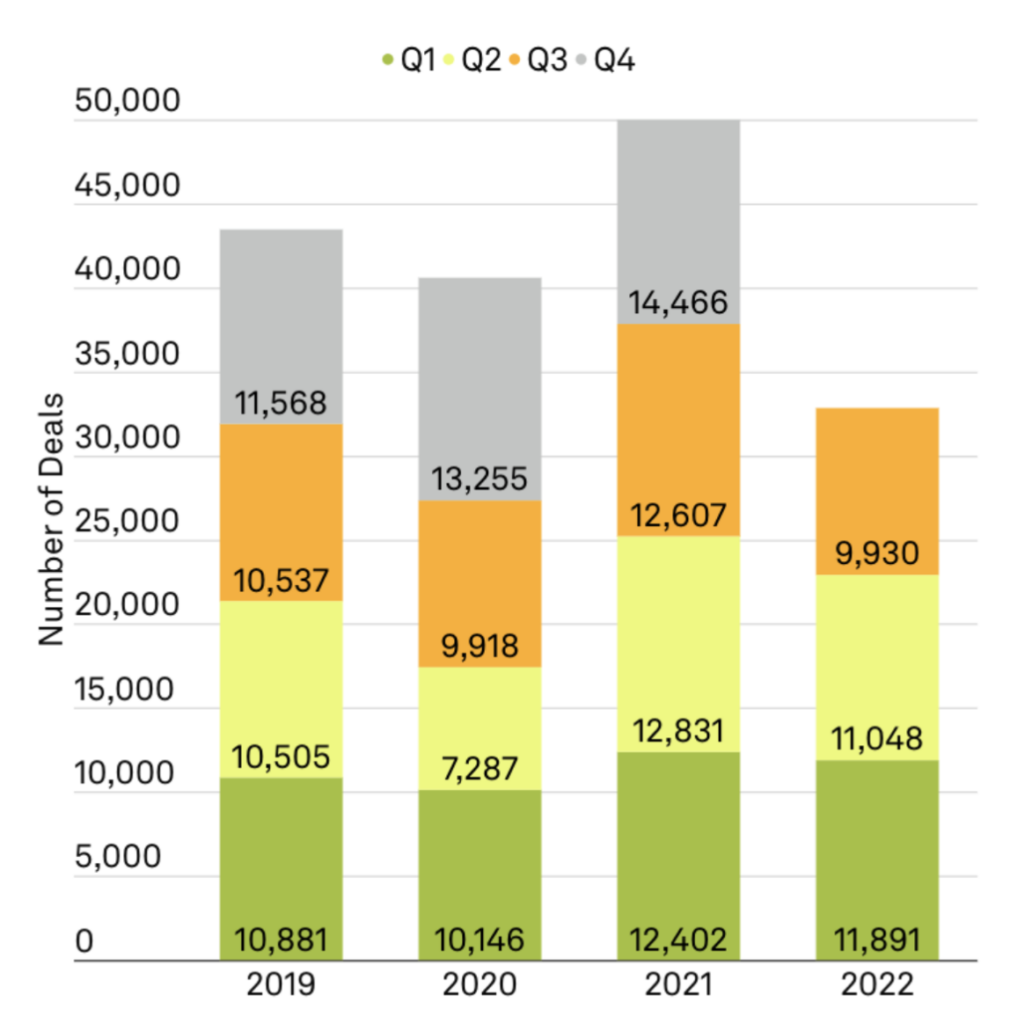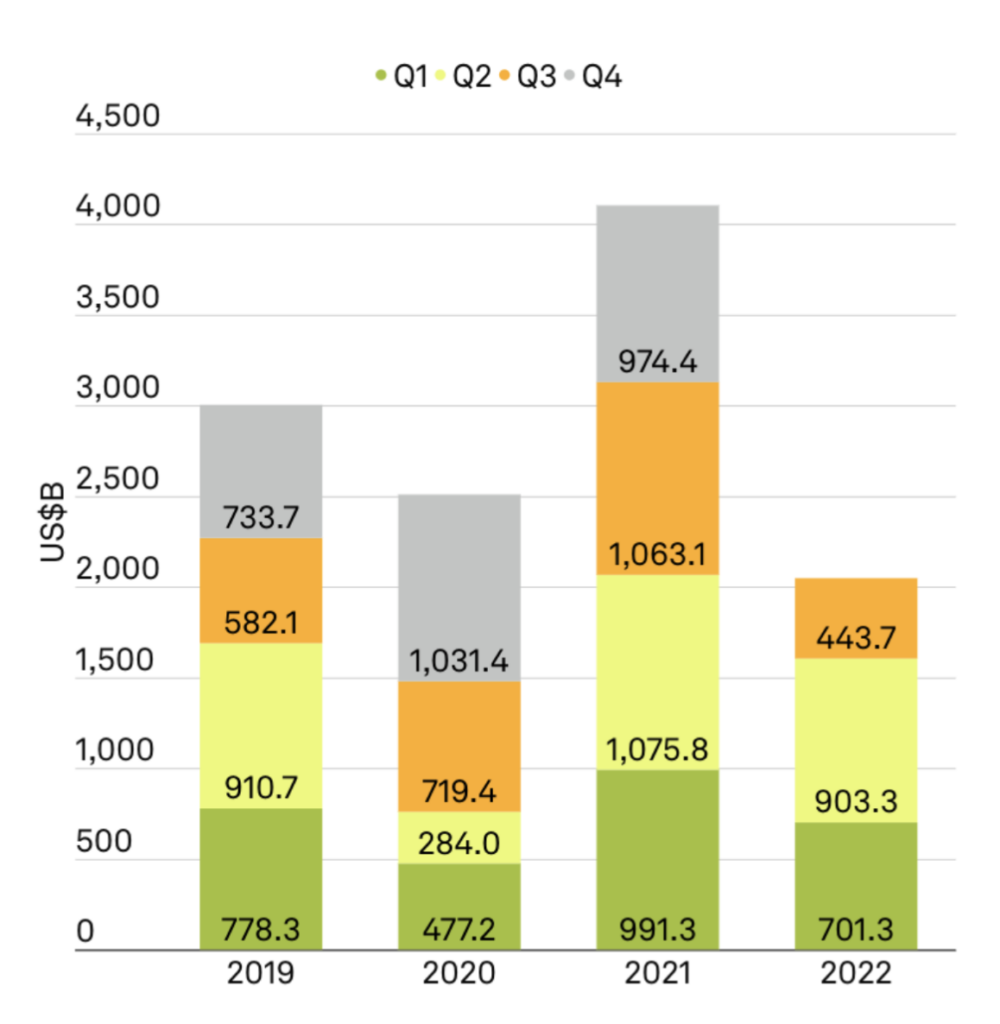 Source: S&P Global
Many M&A experts still believe that 2023 can bring a return to "normal," pre-2021 levels, though even at a slower pace.
However, the most expected M&A trends for 2023 include the following:
Such areas as insurance and software are likely to face increased underwriting scrutiny.
Even though the deal volume will remain the largest in the North American market, African and Middle East regions might see a certain rise in deal activity.
Despite ranking as the number one industry in deal volume for the last 10 consecutive quarters, the software market can experience a slight drop and be replaced by other sectors.
Note: An all-year-round trend for conducting complex deals is the usage of virtual data rooms for M&A, as they assist deal-makers in faster and more efficient due diligence and ensure high-end security for confidential data. Choose the best VDR for your needs among the best data room providers on our main page.
Expect some large M&A deals in 2023, including:
FAQ
At the end of 2022, Adobe, a player in the computer software sector, acquired Figma, a web application for interface design, for $20 billion. While the deal was considered complementary to both parties, Adobe's share price fell 33% a month after the deal.
You can find recent M&A deals on Refinitiv (formerly Thomson Financial), an extensive data catalog with all the details of completed and pending deals worldwide. Also, check out other top news sites like Reuters, Pitchbook, NYTimes, SeekingAlpha, and CNBC.
A recent example of a merger is the deal between Duke Realty and Prologis, giants in the real estate and logistics industry. This merger is considered one of the biggest in 2022 and is valued at $26 billion.