We all like things to be organized and easy to find, which is also true for data-heavy business workflows and transactions. That is why data organization and accessibility are so crucial in business.
Drawing on our own experience, all this improves efficiency and helps ensure that the right people can access information when needed. Is there any better way to achieve these goals than a virtual data room index? Read our guide and answer yourself!
What is a data room index?
A data room index is a data room table of contents for your data room. It is a list of all the documents, folders that are inside of your virtual data room.
A clear data room index can save you a lot of time and money. It is a map of where your most important documents are, so it is important to take care of them. A data room index can be compared to a table of contents in a book because it illustrates what kind of structure is inside of your VDR and where it can be accessed.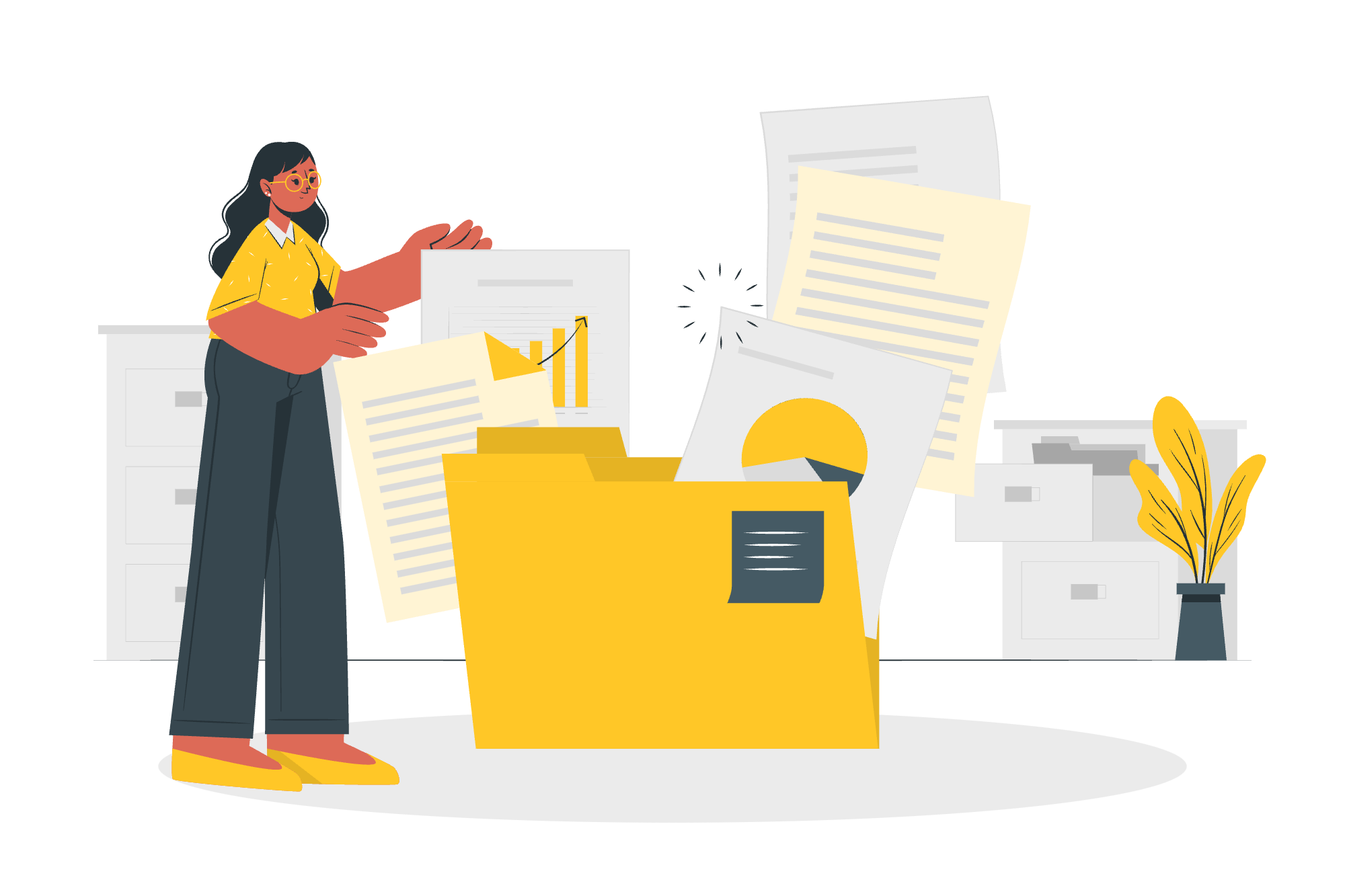 Components of a data room index
Data room indexes can vary significantly from company and industry. For example, a financial institution's data room may require large volumes of financial information. In contrast, a tech company's data room may need details on its software and hardware. But in any case, the folder level is of great importance.
Basically, we can divide the folder hierarchy into the following three levels:
Top-tier folders. These folders are the core of the virtual room index since they serve as a map for users to navigate through documents. So, if you're a large corporation, your top-level folders will likely be financials, legal, general company information, marketing, and human resources.
Main folders. These are the folders you find in top-tier folders. For example, when opening Financials, you may see main folders such as Investment policies, Tax information, and others.
Subfolders. Subfolders keep the detailed components of the main folders. For example, the Investment policies folder (part of the Financials top-tier folder) may include subfolders such as client objectives, client summary, performance monitoring guidelines, etc.
How to structure a data room effectively
Even though automatic document indexing creates a clear and logical structure of your data, a few simple guidelines can enhance the efficiency of document organization in virtual data rooms.
Step 1. Use a consistent naming system
The contents of a folder should be clear to new users. For instance, subfolders such as Information about products and services or Details of the corporate structure shouldn't be in the Human resources folder. Also, ensure that your titles are informative and short. This way, all users can find what they need in a breeze.
Step 2. Create subfolders
A specific document category may contain hundreds of files. In this case, you should create separate subfolders to streamline file navigation and document management for all participants.

Step 3. Assign permissions settings
As the virtual data room admin, you can and should protect the documents in each folder. In particular, you can set specific access rights for each folder and subfolder to ensure that only authorized users can access data. This feature is especially useful in cooperation with several investors ready to launch the due diligence procedure.
Step 4. Keep documents updated
Investors rely on accurate and up-to-date information to make informed decisions. Therefore, it's essential to keep them informed of any changes in your company, so they can make decisions that are in their best interests. So, updating your documents is critical to ensure investors have the latest information. Fortunately, with advanced virtual data room features it's easy!
Ready to take full advantage of a virtual data room but don't know how to choose the best one? Then, rely on our data room selection assistance and see what our experts choose at the virtual data room cost you'll definitely like!
0

% completed
TOP provider according to your answers
Maintaining and updating a virtual data room index
Maintaining an up-to-date VDR index is of utmost importance whether you use a virtual data room for IPO, mergers and acquisitions, or restructuring.
Firstly, it guarantees that the data room contains the latest information.
Secondly, it simplifies finding specific documents as the data index is user-friendly.
Thirdly, virtual data rooms are an invaluable and user-friendly resource that contains all the files investors and potential buyers may need. At the same time, you can rest assured of top-of-the-line security for robust confidential document control.
And finally, we invite you to check a few tips on updating and managing your data room index regularly.
Establish a routine for updating the index. For example, set aside a specific day and time to review the data room index and ensure that all information is relevant.
Update your index once you add new documents. It will help to ensure that the index remains accurate and up-to-date.
Ensure all documents are appropriately labeled. It helps keep your data organized and makes it searchable.
Common mistakes to avoid when creating a data room index
Creating an efficient indexing for a data room can be a tricky process. Many people make mistakes when creating a data room index, including the following:
| | |
| --- | --- |
| Lack of planning | It's essential to carefully plan the data room folder structure to create a proper index. It involves deciding which documents to include, determining the appropriate categories, and organizing them clearly and logically. By doing so, the index will be user-friendly, and all relevant documents will be readily accessible. |
| Inconsistent naming | Naming files descriptively and consistently can help users quickly identify and retrieve the necessary documents. In a word, it should save time and help reduce frustration when searching for documents. |
| Lack of hierarchical document categorization | Of course, a thoroughly outlined structure of a virtual data room index is essential for providing a comprehensive and organized document library. Thus, the top-level folder should contain general categories that allow for easy further sorting of documents. Then, subfolders within each category should break files into more specific categories to ensure users can quickly and easily find what they need. |
| Overcomplicated structure | The complexity of the data room folder structure slows down the deal process, as users may have to navigate through a labyrinth of folders and subfolders. Specifically, it can lead to confusion and delays, as users need help finding the documents or understanding the document structure. As a result, tasks that could have been completed quickly become much more time-consuming. |
Due diligence and a data room index
Business owners significantly improve due diligence processes by implementing a clear virtual data room structure. As a rule, a proper document structure allows for better virtual data room organization and control of all business documents, enabling a secure sharing of confidential information. It also streamlines the review process and reduces the time and cost of due diligence. Do you expect more benefits? Here they are!
1. Value-based decision-making
When all the necessary data and information are easily accessible in a database, an investor can analyze it quickly and make an informed decision without gathering and organizing information from multiple sources. Based on our observations, due diligence index saves time and reduces the risk of making decisions based on incomplete or inaccurate data.
2. Significant time savings
Since a data room index organizes documents into categories and sub-categories, it allows users to quickly search for documents by keywords or browse by folder. As a result, it makes identifying and accessing the documents needed for a due diligence process more straightforward, saving time and reducing the risk of errors.
3. Facilitated investor relations
The data room's clear due diligence folder structure helps get the necessary information from all departments in seconds without submitting formal requests and waiting for approvals. As a result, potential investors receive data in a convenient format instantly and wherever they are. Of course, it goes without saying that the more comfortable and easy cooperation with you for the investor, the higher the chances of a successful business transaction.
Data room's table of contents in due diligence
There are loads of documents needed for due diligence that are far beyond contracts, corporate governance, claims and disputes or litigation. Preparing each of them is time-consuming, but bundling it with an unclear structure could result in a disaster.
This is what the diligence data room index usually includes:
Structure of company and legal
Trade register data
Licenses, approvals, or certificates
Shareholder files
History of the corporation
Documents of incorporation
By-laws
Lists of shareholders
Intellectual property and trademarks documents
Customer contracts
List of the company's biggest customers or channels
Supplier agreements
List of employees
Contracts of head employees
Working contract files
CVs of personnel
List of all lease agreements
Company guarantees
Financing agreements
Insurance policies
Audited financial statements
Current business plan
Tax returns
This is a lot of data to go through. If you had a clear structure created to support all of those files, managing due diligence would be almost effortless. This is why creating a data room index is so important. The list above will guide you through creating convenient files and folder structures.
Wrapping up
A virtual data room index greatly simplifies such time-consuming procedures as, for example, the due diligence process. They allow users to structure documents in folders and subfolders, add tags, and search for files without effort. Additionally, virtual data rooms allow users to control who can access specific data, ensuring that only the right people can access sensitive information.
With all these benefits, why pass up the opportunity to streamline business transactions and investor relations?
FAQ
A data room index is a data room table of contents listing all the files on the platform. It makes the storage well-structured and easy to manage, and data retrieval instantaneous regardless of the number of documents.
To create a neat data room index, users should organize the data room layout — e.g., the table of contents or the tree of folders and subfolders. Then, they should create top-level folders and subfolders for each deal stage or topic to keep information consistent and make navigation easy.
The due diligence index is the data room table of contents created for the due diligence procedure. Since due diligence involves hundreds of documents and dozens of participants, the parties need a logical and consistent due diligence data room index to streamline all stages of the deal.