The global market of virtual data rooms is going to reach $3.66 by 2027 and $5.87 billion by 2029, showing an almost triple increase as compared to the $1.96 billion market size in 2021.
Such outstanding growth is no surprise, as companies worldwide go paperless, seeing numerous business and operational benefits in using virtual data rooms for document workflow management. The price for such tools greatly varies, depending on the virtual data room features, the product pricing model (per-page, per-user, flat-fee, etc.), or the brand name.
How to understand what electronic document management system is best for your organization in terms of functionality and price? What things to consider when choosing the right solution? How to arrange and implement an efficient document management workflow? You can find the answers in the article below.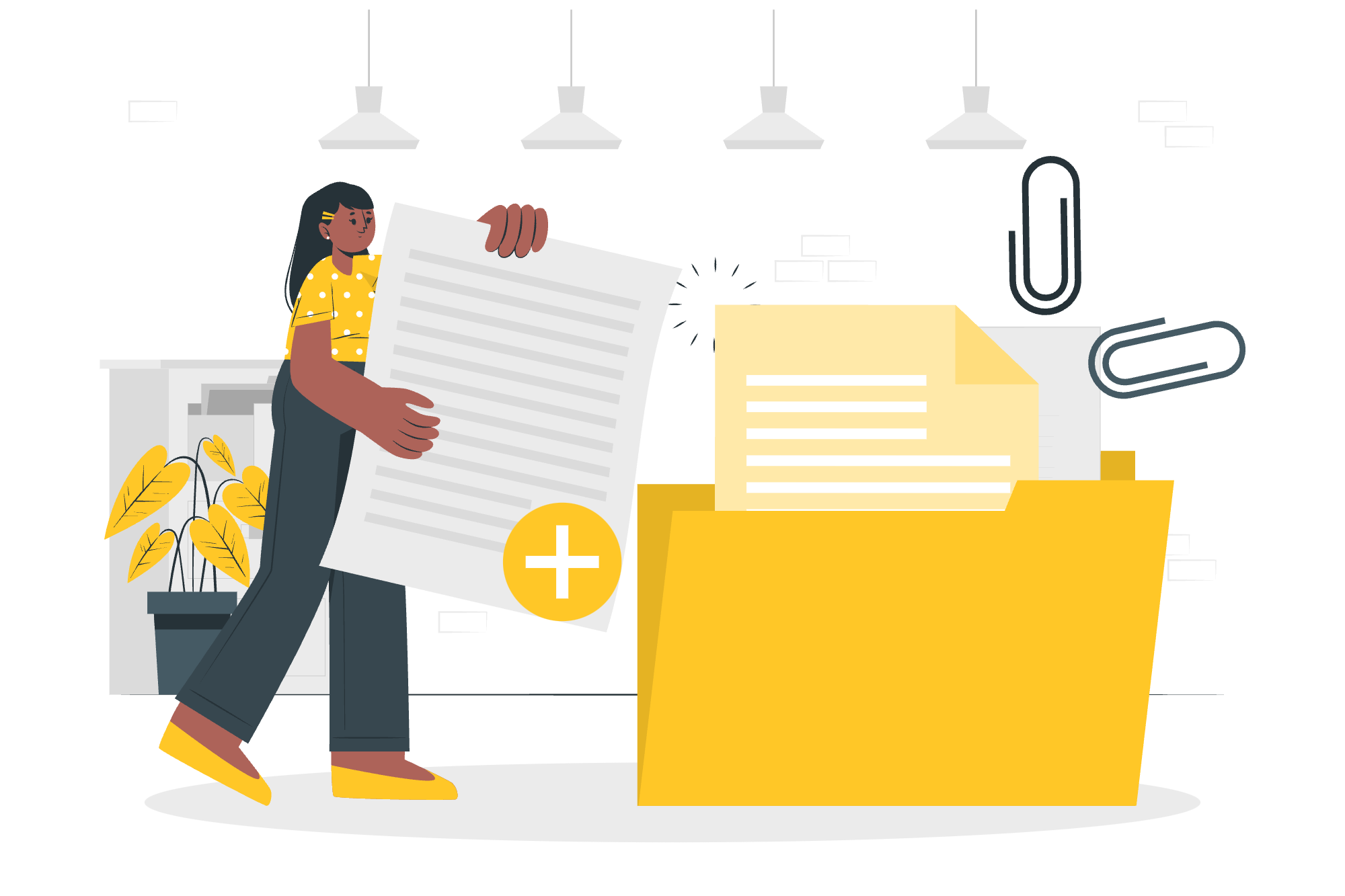 What is a document management workflow?
Document management workflow is a set of processes for capturing, collecting, storing, categorizing, editing, approving, retrieving, and removing the documents associated with business processes within an organization.
The document management process flow aims to provide clear guidelines on handling all document-related tasks, improve information governance, reduce or completely eliminate paperwork, and accelerate business operations.
Such workflow outlines all document types, roles of their users, and processes performed with data within the organization. Typically, effective document management requires intelligent software tools that help create a secure repository for document distribution and storage and leverage workflow automation.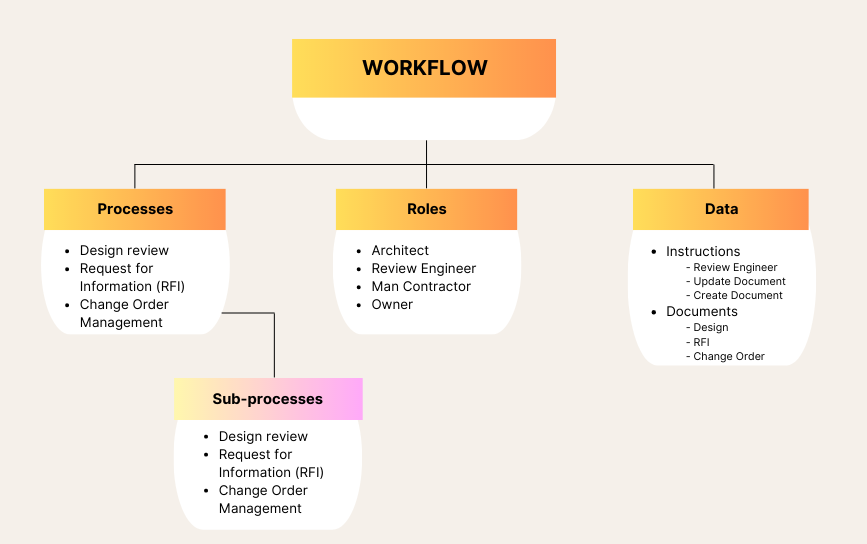 The importance of document management workflows for businesses
The Fortune Business Insights reports that maintaining high workforce productivity in hybrid work mode has become a general trend in post-pandemic business operations.
Whether an employee works remotely or on-site, it is essential to have all required documents accessible and adequately managed. With paper documents, it is impossible. However, paperless offices and document management systems increase workforce productivity and help companies become more environmentally friendly.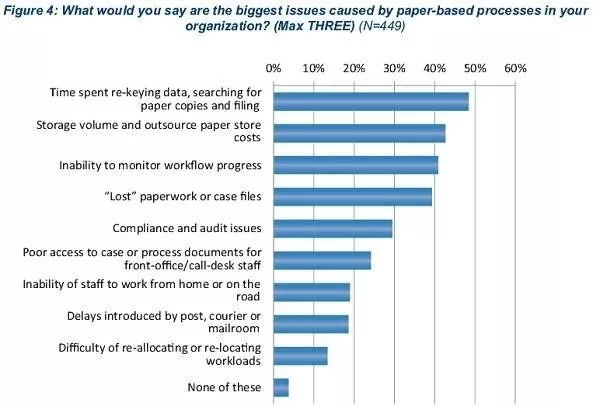 Using electronic documents eliminates the issues of using paper documents listed above and helps companies save significant funds. For instance, companies with $500k-$1000k annual revenues can save around $40k yearly by adopting a digital document management system workflow. It is a must-have for optimizing operational expenses.
That said, office efficiency directly depends on the quality of document workflow management. Wasting office hours or looking for the required document, waiting for the required signatures, mitigating document security breaches or simple loss of paper documents steals enormous amounts of time that could be spent on solving other tasks at work.
Benefits of the efficient workflow for document management system
These days, manual filing cabinets, paper records management, typing, and re-tying are gone to the past. Modern technologies and available document management systems can make managing documents significantly more convenient and reliable.
For any competitive and successful business, deploying a time- and cost-efficient workflow for document management is vital. Here are the key business benefits of adopting the right tool for digital management workflow:
Increased productivity. Document workflow software helps save time on document generation and approval. Solutions like virtual data rooms feature collaboration tools that streamline document sharing and processing in teams and offer user-friendly search functionality that significantly reduces time spent on document navigation and other manual tasks.

Improved collaboration. Document management software provides a common environment where all stakeholders can collaborate on documents. There is no need to send the files back and forth for every edit and approval by different process participants.

Enhanced security. All documents are located in secure data storage with multiple protection mechanisms, including access control, backup and recovery, encryption, version control, and many more. Thus, there is no need to share sensitive documents via insecure channels imposing commercial data to outside threats.

Document workflow automation. Effective document managing with the help of virtual data rooms saves time and reduces manual labor costs through robust workflow automation. Generating typical documents, tracking changes, editing, and sharing are significantly streamlined.

Better customer service. Proper document workflow ensures quick and accurate delivery of documents to customers and enables automatic tracking of all changes, improving customer service.

Cost savings. Document workflow optimization helps companies save money on labor costs, paper, and physical cabinets, and minimize financial losses due to human errors.

Improved compliance. Arranging a safe and secure environment for the entire document flow helps adhere to the required compliance regulations and industry standards. It also provides audit trails — logs of activity like login attempts, document edits, changes in user permissions, and others, that gives better control over corporate documentation.

Reduced errors. Automating document processing, storage, and record keeping reduces risk of human errors that improves accuracy and security.
As you can see, document workflow management is an integral part of business process management that brings numerous opportunities for cost and effort optimization and customer service excellence. The mentioned advantages are relevant to businesses of any scale and any industry of operation.
Basic steps involved in a document management workflow
Understanding the key document-related processes help implement a suitable workflow for a document management system. Typically, the document management workflow includes the steps listed below.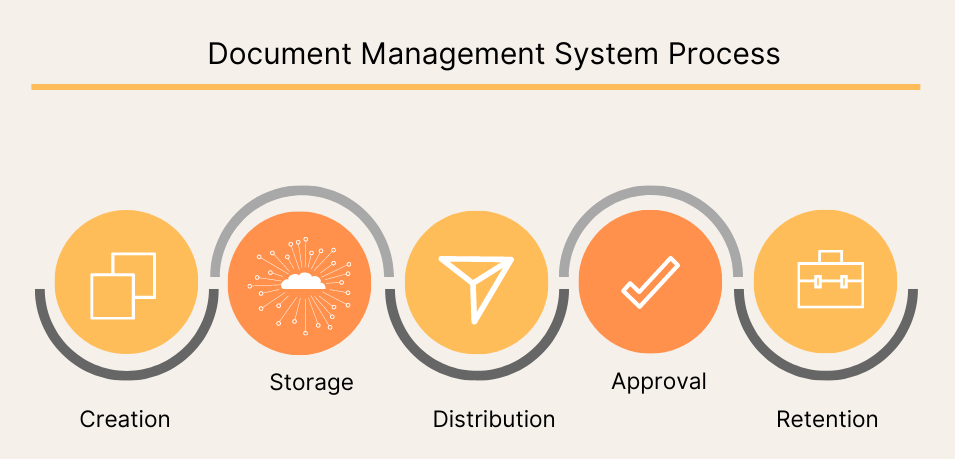 1. Document creation
The document workflow starts with creating digital documents. These can be either physical (paper) or digital documents in different formats like DOC or PDF. With a paperless office, the employees create only digital documents, minimizing the use of printed copies or eliminating physical document sharing.
Depending on the business specificity and the company structure, certain employee groups can have permission to create specific types and categories of documents. The proper user permissions are adjusted within the document workflow software. After creation, the document is saved to data storage.
2. Document storing
The created document needs to be stored securely. To enable efficient document categorization, and organize searchable document storage, the document workflow management systems keep a record of each document type, version, date, and other criteria. With cloud-based document management systems, documents are stored on the cloud, making them securely accessible from any location and even any device authorized in the system.
3. Document distribution
After the document is created and saved in the system, it can be shared with other employees or third-party agents like clients, partners, and others. It is essential to have the ability to assign specific permissions for viewing, editing, reviewing, printing, and other actions to each authorized document user or user group to restrict the use of each document based on operational needs.
4. Document approval
Often documents need to be approved for further use by a manager or other stakeholders. Sometimes it implies putting signatures. In digital document workflow, electronic signatures are widely used, similar to manual ones. E-signatures have the full force and effect of manual ones. The document approval process can be automated, making it easier to obtain required approvals and move the process further.
5. Document retention
Documents retention is keeping them in storage for future access and use. Security, accessibility, convenient search functionality, and user-friendly interface must be provided for efficient collaboration on documents in the system.
The document management workflow outlines guidelines for all the above actions and processes. Based on the organizational specifics, other steps may be included into this workflow, like additional protection measures or separate rules for document sharing with third parties.
Best practices for designing and implementing a workflow for document management
The appropriate document workflow software is only a tool that helps to arrange it. This process requires in-depth analysis and careful preparations with all aspects of document processing adequately elaborated. There are helpful practices for designing and implementing effective document management workflow.
1. Analyze your goals and develop key metrics
Be specific in setting the goals to understand what problems your future workflow needs to solve.
For instance, you want to reduce the time for finding documents in the system, reduce storage costs, improve collaboration between the company departments and teams, or replace manual processes with automation.
In every case, consider the key performance indicators (KPIs) to measure success:
Example: you'd like to reduce time for invoice processing from 30 minutes to 2 minutes or reduce paper consumption by 90% in 3 months by adopting a digital document management solution.
2. Create automated workflows
Automated document workflow management is one of the key advantages of digital document processing. Map the processes you'd like to automate and desired results.
For instance, you can send automation notifications when a new document is created. Automated document management workflow significantly improves the workflow and optimizes time and effort for numerous business processes.
3. Define security measures
Security cannot be underestimated when working with documents. This is why in document processing, there are many aspects to consider.
For example, start with the following features as necessary components of document management:
Access rights. Specific permissions for different user groups according to the employees' roles and responsibilities.

Document versioning. Since documents are often used by multiple parties, appropriate version control helps ensure data integrity and the ability to restore the correct document in case of errors or simultaneous edits by different users.

Document encryption. Based on the data sensitivity, your documents may need encryption while transferring or storing. Consider is it safe to send important documents through email or other channels for your business? If your commercial data needs to be shared online with clients, partners, and other external parties, encryption is a must.

Data backup and recovery. Since documents are used and processed by humans, the risks of errors, deletion, or other misuse are high. You should implement appropriate backup and recovery mechanisms to ensure the ability to restore documents in case of failure.
4. Ensure compliance
Learn your industry regulations towards document processing to ensure proper compliance within the new document management workflow.
For example, in the financial sphere, the regulatory requirements imply storing certain records for seven years. You should integrate these rules into your system.
5. Set up uniform file naming and indexing
Considering the thousands of documents your employees deal with, uniform file naming and tagging are crucial for easy and quick search and proper document accessibility in the system. This is why you should set up detailed policies for how documents should be categorized and stored depending on their type and content.
Based on all the above considerations, it would be easier to choose the suitable document management system for your workflow and ensure maximum ROI from its implementation.
How to choose the right document management system for your organization
After you define the goals for modernizing your document workflow and outline functional and technical requirements, choosing the suitable document management system becomes easier.
Companies that constantly interact with external organizations and provide services to customers choose virtual data rooms for business like an all-in-one solution for internal document management and external collaboration with third parties.
When choosing a virtual data room for your organization, make sure it provides the following:
Powerful data management capabilities. Customizable folder structure, automatic indexing, full-text search, document labels, scanned text recognition — all these features are essential for future document workflow.

Collaboration and reporting options. Opt for tools with multi-level access to documents, detailed audit trail with all user activity properly logged, integrated communication tools, auto-generated activity reports, and automatic email notifications.

Robust security. Ensure the tool provides the ability to perform all edits with documents in the system without exposing the data to external threats. It is vital to have two-factor authentication, data encryption, restriction by IP, efficient user roles and group management, and data recovery and backup options.

Compliance. Ensure the chosen tool adheres to security regulations and standards relevant to your industry and region of operation (ISO 27001, GDPR, HIPAA, PCI DSS, etc.).

Flexible pricing. It is better to have the pricing adjusted for your needs. For instance, the data room provider should offer different subscription plans based on the features you need, required data storage space, additional integrations, and the number of required data rooms.
Based on these parameters, you can choose the right document management system that will fully respond to your business needs.
The future of document management workflows
The COVID pandemic streamlined the adoption of digital document management and paperless offices due to the need to maintain remote business operations. The companies appraised the benefits of being 'paperless' and accessing all business information regardless of location and work mode.
That is why the market of solutions for digital document management workflow is growing steadily:

While businesses undergo rapid digital transformations, the decision-makers aim to optimize the expenses and reduce the number of software tools used to cover all the needs.
For this reason, companies choose virtual data rooms that can handle document management, collaboration with clients and partners, due diligence, M&A deals workflows, and any other activities that imply secure document sharing.
It drives the growth of the VDR market niche that becomes a significant part of the workflow management software market reaching approximately one-third of all solutions used for this purpose.
Key takeaways
Efficient document management is the key to employee productivity, customer service excellence, and overall business success. There are four pillars for successful document management implementation:
Setting precise goals
Designing a comprehensive document workflow covering all company needs
Choosing a functionally suitable, reliable, and cost-efficient software solution
Ensuring constant control over the new system performance to maintain high performance and improve the system in the long run
Modern digital solutions significantly help digitally transform document workflows and take business operations to a new level. Virtual data rooms suit the documents management needs of organizations regardless of scale and industry.
Choose the solution according to your business needs and available budget to reap the benefits of existing technologies and increase your business value.
FAQ
Document management workflow is a set of procedures and guidelines for creating, storing, and sharing documents in the required formats. It also includes processes for collaborating on documents between different parties and ensuring secure business data exchange.
You should define clear goals and key performance indicators (KPI) and build an appropriate strategy. Select a suitable virtual data room solution based on your business requirements for automated document management workflow and implement all the management and operations processes with its help.
Modern solutions for managing documents feature robust automation capabilities to reduce the time and cost of routine tasks related to document processing. They also provide powerful security features to ensure your commercial data privacy and integrity and offer convenient options to set up reliable and safe collaboration on documents.