Investment banks are intermediaries between investors who have money to invest and corporations seeking growth and development opportunities through investment.
Investment bankers mainly assist companies with such complex financial transactions as mergers and acquisitions (M&A). In 2021, there were 63,000 M&A deals worldwide, and 720 of them were conducted by a leading investment bank in the US.
This article discusses the importance of an investment banking data room as a surefire way to keep clients' confidential documents private and to help facilitate a deal.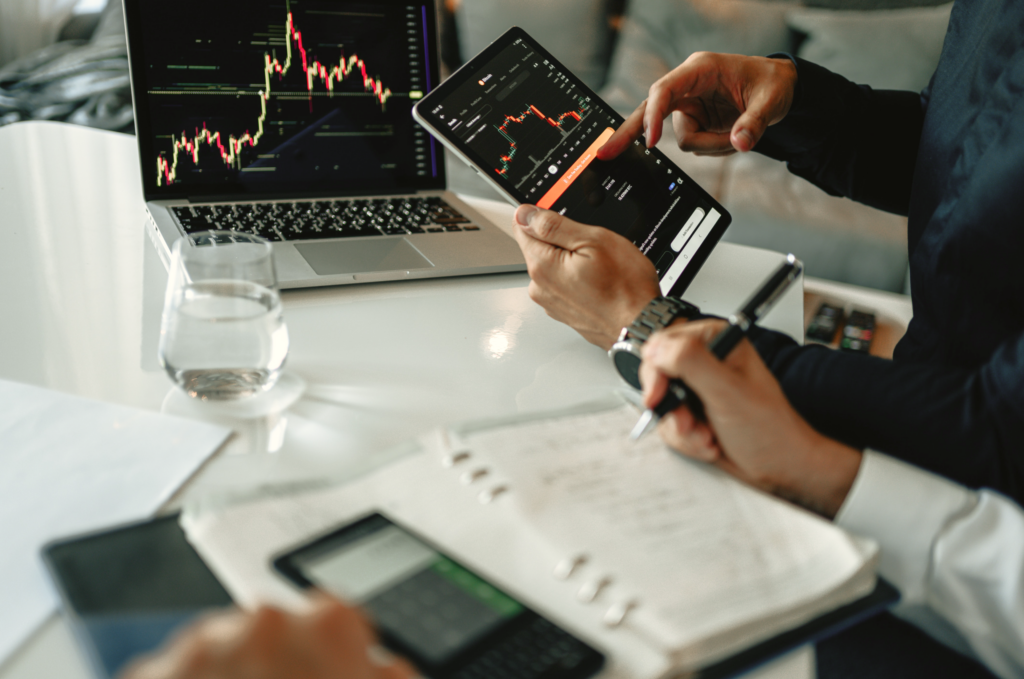 What is a data room in investment banking?
Simply put, a data room investment banking is a virtual data room (VDR) software used in the investment banking sector.
A virtual data room is a cloud-based repository for storing deal-related documents. The trademark of an investment banking data room is the high-end security, which is immensely important during mergers and acquisitions transactions and other complex banking operations.
Virtual data room investment banking providers offer a number of dedicated features that ensure the privacy and confidentiality of clients' data and facilitate deal-making.
In contrast to virtual data rooms, there are also physical data rooms. A physical data room is a dedicated tangible space for storing deal documentation. However, such traditional data rooms are considered less secure and more costly compared to VDRs.
Tip: Popular file-sharing services such as Google Drive or DropBox are often mistaken for VDRs. Yet, the security measures that they offer differ greatly. So, if faced with choosing between Google Drive or a virtual data room for investment banking, experts recommend selecting a VDR.
Why are secure data rooms crucial for banks?
Investment banks deal with highly-confidential corporate information when advising companies on their business transactions. That's why the security level virtual data rooms provide is extremely important to investment bankers.
Apart from a secure location for essential documents, a VDR in investment banking industry also performs many other functions, allowing investment bankers to:
Organize client's sensitive documents in a well-structured way to attract potential investors
Effectively conduct due diligence process
Establish effective collaboration with the sell-side and the buy-side
Implement an agile approach on the team for successful project management
React proactively to client's inquiries
How do virtual data rooms benefit banking institutions?
Let's define the key advantages that data room investment banking brings.
Sensitive data protection
Most investment banks use virtual data rooms for securing sensitive documents while conducting financial transactions.
Investment banking data rooms provide dedicated secure storage for sharing confidential information with all parties involved while reducing risk. To ensure high-level security, VDR providers offer a number of document security features and take specific security measures in accordance with international requirements.
Deal speed
Virtual data room implementation significantly facilitates the due diligence process and, thus, accelerates deal closure.
The process of reviewing documents is much faster when they all are gathered in one online space, and all interested parties can reach them anytime. This is not possible with traditional data rooms or when reviewing physical documents.
Reduced costs
Online data room is a much more cost-efficient solution when compared to physical data rooms.
Storing vital documents in a physical data room incurs extra expenses, such as rent, staffing, and security. Whereas a virtual data room only requires payment for a subscription plan — monthly, quarterly, or annually.
Ease of use
Most virtual data room investment banking providers offer a user-friendly interface and are easy to set up.
Being easy to use is important because many people reviewing financial documents in the VDR won't have a technical background. Moreover, most vendors offer training options to make sure their customers get the most out of their products. Ease of use extremely speeds up deal-making.
Collaboration
It's beneficial when the sell-side, buy-side, investment bankers, and other interested parties have an opportunity to collaborate during due diligence.
Many data room providers offer communication tools such as an in-built chat, Q&A sections, discussions, and comments. This way, all involved parties can discuss specific issues in real-time. This is impossible to do when using physical data rooms.
The most popular usage examples of virtual data rooms in banking firms
Let's now review the main use cases of VDR in banking.
Sell-side M&A
A company looking for investment opportunities needs to share a great deal of sensitive information and many confidential documents with investment bankers and advisors. It is much safer to do so with virtual data rooms.
Buy-side M&A
A thorough review and analysis of required documents are essential for potential buyers before an acquisition. Therefore, virtual data room providers allow for storing and securing sensitive documents in one place, which significantly saves time and facilitates the due diligence process.
Raising capital
Startups or companies that seek fundraising should gather all the required data in one place to attract interested investors. Virtual data rooms make this possible. When potential investors can access documents and locate important information in a few clicks, it significantly enhances the chances of raising needed funds.
Initial public offering (IPO)
When companies decide to go public, they hire investment bankers for underwriting purposes. By underwriting, a company manages all risks that might affect the company's progress. Using virtual data rooms is the easiest, fastest, and safest way to prepare and review documentation for IPO deals is to use virtual data rooms.
Strategic partnerships
Just like any complex deal, a strategic partnership requires a thorough review of all essential documents before two companies decide to join forces. Investment bankers and advisors significantly speed up this process by using virtual data rooms.
5 data room features for efficient banking processes
Below are the essential features of data rooms banking for the financial sector.
Data security. High-end security of clients' data is important for investment banks when conducting financial transactions. Virtual data room providers make it possible with the help of such data security features as watermarking, redaction, and fence view. Additionally, vendors provide such security certifications and compliance as ISO 9001/ISO 27001, FISMA, SOC 1/SOC 2, and SSAE 16.
Data management. To prepare the sell-side for the deal, investment bankers work with large volumes of data. Virtual data rooms significantly simplify this process and make it faster. Modern vendors provide such data management features as a drag-n-drop bulk upload, automatic indexing, full-text search, and third-party integrations.
Collaboration. It's great when investment bankers and advisors can effectively communicate with all parties involved in the deal. Data rooms make it possible thanks to various collaboration tools — in-built chatting, Q&A sections, comments, and discussions. This way, issues can be promptly solved.
Tracking and reporting. Investment bankers can monitor the performance of each document within the VDR software and react proactively. Additionally, they can assign and track tasks when some extra action on the sell-side or buy-side is needed. Moreover, they can create full audit trails to review all the activity in the data room.
Access management. It's essential to ensure confidential documents are secured from unauthorized view. This is possible because of the access permissions virtual data rooms offer. Administrators can set specific permissions for every data room member (View, Download, Print, Upload). Access management is especially helpful when investment banks prepare a few deals simultaneously.
Data room investment banking providers: How to choose the best one for your business
When searching for a data room provider to fit investment banking needs, follow these simple recommendations:
Pay attention to provided security measures. A virtual data room should be a secure online place for storing documents. Make sure the list of provided security measures meets your demands. Look for such certifications and compliance as ISO 9001/ISO 27001, SOC 1/SOC 2, FISMA, FedRAMP, DIACAP, and SSAE 16.
Read reviews. There's no better way to find out how good a particular provider is than by reading customer feedback. For example, real users often describe how easy or difficult setting up a virtual data room is and how helpful the provided features are.
Test potential virtual data rooms. Before purchasing a subscription, opt for a demo most vendors provide or enjoy a free trial. This allows for testing the software and understanding how good it can be in assisting the deal. To find the best virtual data room providers, visit our main page.
Still can't make a final decision for your business?
Rely on our expert choice – iDeals VDR
Visit Website
Data room banking trends 2023
The virtual data room industry is developing rapidly and is expected to grow in the coming years — forecasters expect VDR's sales to reach $3.66 billion by 2027. Naturally, VDR users expect vendors to only improve the experience as technology develops.
What do users expect virtual data rooms banking to offer or upgrade in the upcoming year?
Improved data management
The total amount of data created, copied, and shared globally is forecasted to reach 180 zettabytes by 2025.
Source: Statista
Understandably, the VDR market is expected to provide even better services for data management, which is especially important in the investment banking industry and during complex financial transactions.
Enhanced data security
Securing data during financial transactions remains the most important demand for virtual data rooms.
Considering that the global average cost per data breach is $4.35 million, investment bankers and deal makers expect VDR vendors to only improve their security services.
Compliance with regulatory requirements
The importance of data protection laws is likely to continue growing. Investment banks will need to follow certain government regulations regarding data protection.
That's why virtual data rooms are expected to work on providing all the latest security certificates and compliance.
Mobile usage
Users should always pay attention to the technological capabilities a VDR vendor provides. That's why the demand for reaching a virtual data room from any device will only keep growing.
Modern virtual data rooms are expected to improve their mobile experience, as well as develop responsive and up-to-date applications.
Key takeaways
An investment banking data room is a virtual data room software solution used specifically by investment bankers. A VDR is a secure cloud-based repository where users can store privileged data and collaborate on tasks.

Virtual data rooms help investment banks conduct due diligence, organize clients' in a way that will attract potential investors, maintain effective collaboration with all parties involved in the deal, and secure confidential documents.
Among the main benefits virtual data rooms bring to the investment banking sector are reduced costs, ease of use, enhanced security, improved collaboration, and accelerated deal-making.
The main use cases of VDR in investment banking include the sell-side and buy-side M&A, strategic partnership, fundraising, and an initial public offering.
FAQ
The data room in investment banking is a tool to ensure the unparalleled security of confidential documents in the investment banking industry. Investment bankers can use data rooms to facilitate M&A transactions and prepare buy-side and sell-side to the deal.
The key benefits the data room brings to banking institutions is unmatched sensitive data protection, accelerated deal speed, ease of document management, thorough user activity monitoring, tools for effective real-time collaboration, and cost-efficiency when compared to physical data rooms.
iDeals virtual data rooms are the best choice among a lot of banks. This solution outperforms its competitors in terms of security and ease of use. It provides a simple 15-min setup, top-notch security, granular reporting, Q&A workflow, 24/7/365 customer support, 8 levels of permissions, and auto-notifications to facilitate banking transactions. Read review on our website.