Virtual data rooms have become a must for the due diligence process. As a complex transaction, due diligence should be secured with modern solutions, and that is where data rooms become essential.
What is due diligence?
Due diligence involves a thorough investigation of facts and data relevant to a transaction. In a potential investment or mergers and acquisitions (M&A) deal, it's carried out to protect involved parties from unwanted and unexpected liabilities.
The investigation may be operational, legal, technical, environmental, fiscal, economic, or financial in nature.
Why sellers need due diligence
When conducting due diligence, the bulk of the responsibility falls on the buyer. But sellers are well-advised to conduct their own investigations. This way, they can identify issues and fix them before the buyer gets involved, giving them more leverage to negotiate favorable terms.
Why buyers need due diligence
Buyers need due diligence to ensure they're getting a deal that's worthy of their investment. It helps prevent exposure to unexpected financial and legal risks. A thorough investigation provides them with the certainty they need to seal the deal with peace of mind.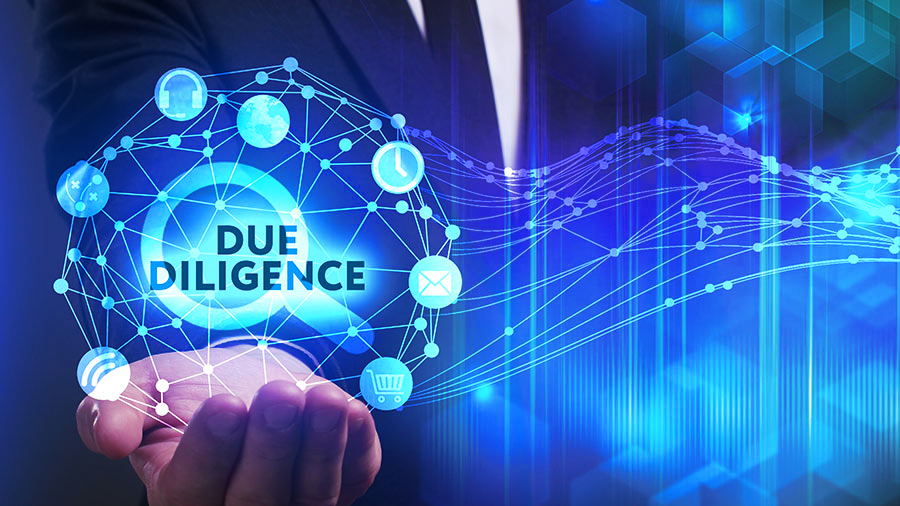 Due diligence: A crucial stage of M&A
In M&A transactions, due diligence allows the buyer to check and verify relevant information about the company they wish to acquire. The process starts after the letter of intent (LOI) is signed.
Due diligence aims to equip the buyer with all the information they need to make the right decision. If the due diligence team finds any issues, they will have to decide whether to abandon the deal or modify it. But if everything looks okay, the buyer and seller can proceed with the transaction.
The due diligence team
The complex due diligence process involves the combined efforts of the following professionals and stakeholders:
Investors
Lawyers
Accountants
Consultants
Business acquisition professionals
Service providers
Data requests
The prospective investors will be checking every aspect of the business to make sure they're getting a good deal. Be ready to provide detailed data, including:
Permits, licenses, or other governmental authorizations
Lease agreements
A detailed list of property owned
Intellectual property contracts
Financial statements
Historical cash flows
Monthly bank statements
Tax documentation
Employment agreements
Compensation reports
Stockholder information
IT systems and networks
Material contracts
Taxes
Insurance information
Litigation history
Why use a virtual data room for due diligence?
The due diligence process involves multiple people working on a myriad of confidential documents and sensitive data. Without proper precautions, this phase of the M&A can seriously compromise data security.
That's where a virtual data room comes in. It provides a safe place for all parties to store and distribute confidential documents and information. 
Ensuring high-level data protection, a data room facilitates smooth communications and secure document exchanges between seller-side and buyer-side parties. The right people gain easy access to relevant data and can share reports and progress without worrying about data breaches.
A virtual data room helps ensure that due diligence gets done thoroughly and quickly.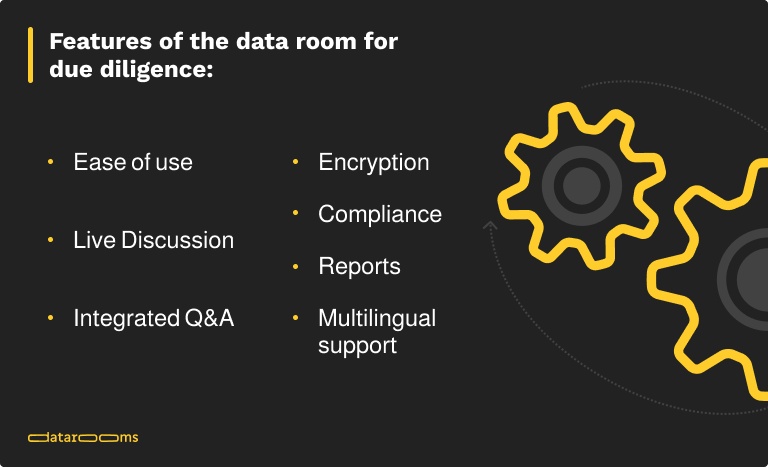 Criteria to consider when choosing a data room
Not all virtual data rooms are created equal. You need to pay close attention to the must-have features for a successful due diligence process.
Security
To prevent data breaches, choose a due diligence data room that provides advanced data security. It must ensure document protection with features like 256-bit encryption, remote shredding, automatic watermarking, restricted viewing mode, secure spreadsheet viewing, detailed access policies, and antivirus protection.
Full access control is a must. The data room should provide a unique permission profile to users that enables access only to specific files and folders. It should also track user activities and provide audit logs.
Security compliance
But how do you make sure the data room is as safe as it claims to be? Allow third-party certifications to do the talking. Choose a provider that's ISO27001 certified, SSAE 16 certified, HIPAA certified, and SOC2 compliant. They should also conform to international standards, such as the OWASP and Microsoft Secure Development Lifecycle.
Ease of use
Make it easy for users of varying professional backgrounds and technological know-how to use the data room for due diligence. The platform should provide an intuitive interface that ensures anyone can use it without requiring intensive training.
The data room must be accessible from all devices. It also shouldn't require plug-ins or fancy software and must be compatible with Windows, macOS, Android, and iOS. Moreover, it must have a responsive user interface that works seamlessly on mobile devices.
Multilingual support
Your due diligence team may involve people of different nationalities. Make sure your data room has the necessary multilingual features to accommodate users from varying ethnic and geographical backgrounds. This is especially crucial for cross-border M&A deals.
Integrated Q&A and chat
The due diligence process involves complex transactions that may raise many questions. Make the exchange easy by choosing a virtual data room that provides an efficient way to post questions and provide answers. The data room for due diligence should also enable secure chats for seamless communication.
Free demo
One of the best ways to ensure that you're using the best due diligence data room for your needs is to use it. You may want to give the platform a try before committing to it, and a free demo lets you do just that.
When choosing a perfect virtual data room provider, you can make a choice between the top data rooms we have thoroughly selected through various criteria.
TOP 3 Data Rooms
1. iDeals


Read Review
2. Citrix
Read Review
3. Datasite


Read Review